Many agencies have a growth rate of 1% to 3%. They have an aging producer force, no systems to drive growth and no way out but to sell to an aggregator.
In most cases, they have tried to hire new producers and have failed. They tried a pipeline manager and it failed. They hired a sales trainer, but no growth and it failed. Now they are saying to themselves, "We make money, but we're not growing…where do we go from here?"
You have three real choices:
Ride this horse.
Sell to an aggregator (prices are at an all-time high).
Make a commitment to grow.
If you decide you want to grow, there will be a few issues you should consider first.
Each possession you look across at the opponent and commit yourself to dominate that person.
Can you set priorities, and stick with them? Do you feel sorry for lame producers that are stuck in the '90s? Is "discipline" a foreign or dirty word? Do you hate process?
If you can't stick to a plan. If you feel sorry for bad producers. If you're not disciplined and can't stick to a process, you should probably sell. Remember, prices are at an all-time high.
However, when you do the math on increasing your growth rate by 6%, 8% or 10%, and compare that to the one-time, big multiple, an aggregator will give you, you might find it more attractive to keep and grow your agency. If you decide you want to grow the next question is how?
It's simple, although not a secret.
Develop your producers into a powerful sales team that wins and watch the revenue flow in.
Building a stronger, more powerful sales team that wins is not as hard as you may think. It takes discipline, structure and commitment. You must train, coach and hold them accountable.
Most of your peer competitors struggle with these three things, so they are looking for tricks — something that is easy, doesn't require work, discipline, structure or commitment. You could call it magic, but magic doesn't exist in the real world does it?
Here is what they are willing to try:
A new website along with some colorful marketing collateral.
Changing the title on their producer's business card to risk advisor or risk partner.
Implementing a digital marketing program to drive new leads.
It's like telling your child to read muscle magazine to get stronger. At some point your child has to get into the gym and lift weights. That's how you get stronger.
If you want stronger, more powerful and confident producers then you must do the same thing — train, coach and develop them to become better salespeople.
There it is. The "secret" has been revealed. That is exactly what all of the high growth firms are doing; they are training, coaching and developing their salespeople.
Nick and Chick
Nick Saban and Bill Belichick are very intelligent and hard driving coaches. They win championships because they recruit well. They train hard and they build competitive advantage. They find good talent and make it better. They have a process to turn their players into great players and their players win.
Nick and Chick have one objective: develop their players into great players.
When great players do their "thing" they dominate play by play, they win games, and they win championships.
Nick and Chick coach, train and develop their people to dominate their competition. It's how they win. It's why they get enviable results. They have a playbook, and demand every player learn it. Players watch film and study the competition. They lift weights and get strong. Players practice their plays.
Nick and Chick develop not just the player, but the person. They help them build a mindset of determination, domination and discipline. And with that, they win.
The Bill Parcells Family Tree
Mickey Corcoran mentored Bill Parcells. Bill Parcells mentored Bill Belichick. Bill Belichick mentored Nick Saban.
Do you see a pattern? These great coaches had a mentor. That's your next step.
Find a mentor, or maybe they'll find you. Quit trying to Lone Ranger it. Become a student of producer development; it's the most lucrative skill you could ever develop.
You want winners. That's why you must become a developer of salespeople. You must train them. You must coach them. It's up to you to make them better.
You, too, can do what Nick and Chick do. You can become a trainer. You can become a coach. You can become a developer of great producers.
When you do, you will develop a team of perpetual winners that dominate the competition, produce a lot of revenue, and with that, your agency will grow. Your producers will grow their income. You'll teach them to make money and save money. You'll teach them that they need to save 25 times whatever they expect to live on at retirement (that's a minimum of $2.5 million). To do that, they have to save about $55,000 a year for 20 years in a row. And, until they have saved that much, your message is simple: keep making money, keep saving money and grow your wealth.
How to Get Your Competition Fired
I wrote my first book, "The Wedge, How to Stop Selling and Start Winning," in 1997. I did a follow-up book, "How to Get Your Competition Fired" without saying anything bad about them in 2005.
You can clearly see the intent: it's about winning, not quoting. It's about dominating your competitor, not tolerating them. It's about building a differentiation strategy that always works, not cute marketing collateral or new titles so we can avoid our real job, selling. To me, it is the real game.
Here is a simple fact when it comes to selling insurance: Someone must lose for you to win. If you can't get your competition fired, you can't get hired. It's simple. It's direct. It's true. It's real.
How Grandpa Sold Insurance
Many agency owners are stuck in the "old game." They still promote the 1950s model for selling insurance that they learned from their grandfather. 1) Build relationship. 2) Find coverage gap. 3) Get a better price. 4) Present and hope you win.
That old game selling model slowly erodes the confidence of the average producer, making them worse, not better. It slowly erodes your ability to grow your agency as producer confidence diminishes. It's like cancer; it eats you up from the inside out. It's a poor way to develop producers. It's a poor way to grow an agency. It's a broken model.
No more secrets.
Was this article valuable?
Here are more articles you may enjoy.
From This Issue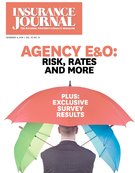 Top Commercial Lines Agencies; Agency E&O Survey; Premium Finance Directory; Market: Trucking