2 Plead Guilty in Insurance Fraud Related Charges
West Virginia officials sentenced two Kanawha County women on insurance fraud related charges, according to Insurance Commissioner Jane L. Cline.
Tina Marie Browning, 40, of Eskdale, W. Va., was indicted on one felony count each of forgery and uttering and fraudulent schemes in January. Browning later plead guilty to one count of uttering a forged document on Feb. 28, Cline said.
Linda Foster, 60, also of Eskdale, was indicted on one felony count of fraudulent schemes. Foster also pleaded guilty to the charge on Feb. 28, Cline added.
Browning and Foster wrote checks on an account and continued to receive workers' compensation benefits meant for another individual who passed away but had lived at the same residence, according to Cline.
Both were sentenced to one to 10 years in a state penitentiary, then had their sentences suspended and each were placed on four years probation, ordered each to pay $7,500 in restitution to the Workers' Compensation Old Fund and perform extensive community service during the duration of their probation.
Source: West Virginia Insurance Commission
Iowa Man Gets 10 Years in Prison for Second-Degree Arson
A Waterloo, Iowa, man has been sentenced to 10 years in prison for setting his ex-girlfriend's house on fire.
Kelvin Scott was sentenced for second-degree arson after a judge refused his request for a new trial.
Authorities say Scott, 44, burned his ex-girlfriend's home in early December 2007 after calling her on the telephone and threatening her. He was found guilty in February 2008.
Scott is also awaiting trial for second-degree criminal mischief. That charge stems from allegations he destroyed furniture and other items at the same house and began flooding the basement in September.
Landlord Charged With Lying During Fraud Trial
A Cedar Rapids, Iowa landlord who was convicted of insurance fraud has been charged with lying under oath during his civil trial in January.
Robert Miell, 53, was ordered by a federal jury to pay up to $1.5 million to the Wisconsin-based American Family Mutual Insurance Co., which sued him for filing claims for roof repairs he never made after a 2001 hailstorm.
Miell now faces a criminal trial for one count of perjury, two counts of filing a false tax return and 18 counts of criminal mail fraud according to the Associated Press account.
The U.S. attorney's office accuses Miell of lying at the civil trial when he said American Family sent the checks to his insurance agent's office. Prosecutors say the checks to pay for the roof damage were sent to Miell's office.
Miell is also charged with filing false tax returns because in 2002 and 2003 he allegedly did not report the money he received from American Family, according to the indictment.
Miell owns about 1,000 rental units worth up to $80 million.
His trial is scheduled for June 9.
La. State Senator Indicted on Fraud, Conspiracy Charges
A federal grand jury on April 10 indicted a Louisiana state senator on charges he conspired to launder money for a convicted felon accused of operating an illegal insurance business.
Derrick Shepherd, a lawyer from the New Orleans suburb of Marrero, allegedly conspired with the unlicensed bond broker to launder roughly $2 million in fake construction bond fees, federal prosecutors alleged.
"With this indictment, we yet again demonstrate our unswerving commitment … to seek out corruption wherever it exists," said U.S. Attorney Jim Letten in announcing the indictment.
Shepherd, 38, a Democrat who ran an unsuccessful congressional campaign in 2006, has claimed he was targeted because he couldn't help the FBI build corruption cases against other public officials. He denied wrongdoing but gave up his post as a legislative committee chairman.
"I am deeply disappointed and saddened by the indictment against me that has been secured by the federal government. I have never knowingly or maliciously violated any law," he said in an e-mailed statement.
The allegations surfaced last year, days after voters elected him to a second term. Shepherd ran for Congress in 2006 but finished third in a primary challenge to U.S. Rep. William Jefferson, D-La., who is accused of using his congressional office to leverage bribes and lucrative business deals from companies seeking to do business in Africa. Jefferson has pleaded not guilty in the case.
Shepherd is charged with one count of conspiracy to commit mail and wire fraud, three counts of mail fraud, and one count of conspiracy to commit money laundering. The first charge carries a maximum of five years in prison. Each of the other counts is punishable by up to 20 years in prison.
The broker, Gwendolyn Joseph Moyo, 53, was indicted in October on charges she illegally sold insurance. She allegedly sold construction bonds despite federal convictions dating back to 1989 that barred her from working in the insurance business.
Copyright 2021 Associated Press. All rights reserved. This material may not be published, broadcast, rewritten or redistributed.
Was this article valuable?
Here are more articles you may enjoy.
From This Issue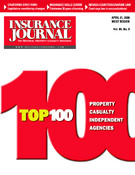 Top 100 Retail Agencies; Medical Professional Liability; Top Performing P/C Insurers: 1Q