50%
The Houston area has nearly $1 billion of commercial insurance market capacity for downstream energy risks, or about 50 percent of the total amount available worldwide, according to Willis Group Holdings. Willis said the growth in capacity is being fuelled by increased windstorm capabilities. Willis executives told attendees at the Downstream Energy Seminar in Houston that there are opportunities for buyers to secure improved terms from this market in 2007, as long as they are prepared and produce detailed underwriting submissions. Buyers should include details relating to construction quality, contingency plans for shut-down/re-start of the processing units and the need for a thorough risk identification process.
20
The number of additional counties for which Oklahoma Gov. Brad Henry is seeking federal public assistance as a result of January winter storms. The additional counties are: Alfalfa, Canadian, Coman-che, Dewey, Garvin, Grant, Greer, Jackson, Jefferson, Kay, Lincoln, Osage, Pontotoc, Pottawatomie, Rogers, Tillman, Tulsa, Washington, Washita and Woods. According to the Associated Press, damage in the 20 counties was estimated at $11.1 million. The Jan. 12-14 storms toppled tree limbs and power lines, knocked out power to about 125,000 homes and businesses statewide and contributed to the deaths of more than 30 people, mostly in highway crashes. Twenty-two counties already are eligible for public assistance: Adair, Atoka, Bryan, Cherokee, Coal, Cotton, Craig, Delaware, Haskell, Hughes, Johnston, Latimer, Mayes, McIntosh, Muskogee, Okfuskee, Okmulgee, Ottawa, Pittsburg, Seminole, Sequoyah and Wagoner. Damage to those counties from the ice and snow storm was estimated at $40 million.
$77 Billion
The amount the City of New Orleans is seeking from the U.S. Army Corps of Engineers as a result of damage from 2005's Hurricane Katrina. According to the Associated Press, only $1 billion would go to restoring infrastructure damages. The rest is for such things as the city's tarnished image and tourist industry losses after 80 percent of the city was flooded. New Orleans has joined big business and thousands of homeowners in filing claims seeking compensation from the Corps for damages sustained when the levees broke. The claims allege poor design and negligence by the Corps led to the failure of flood walls and levees.
$1.25 Billion
The amount in dividends State Farm Mutual Automobile Insur-ance Co. plans to pass on to policyholders in 46 states, the District of Columbia and the Canadian province of New Brunswick. The company said the amount eclipses the previous high of just over $1 billion in June 2000.
From This Issue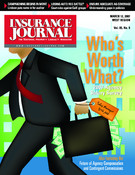 2007 Agency Salary Survey; Agency Technology/Public Entities; Agribusiness/Farm & Ranch