Nuts & Bolts: Chicago-based CNA insurance companies and Affinity Insurance Services, a subsidiary of Aon Corp., have jointly introduced Agency Advantage, a new professional liability insurance program for property/casualty agencies. Agency Advantage offers flexibility to design coverage and limits based on the needs of property/casualty insurance agencies writing up to $20 million in gross written premium annually. Optional coverage is available by endorsement for the sale of life and health insurance and other financial products. The policy covers the amount of damages an agency is legally obligated to pay as a result of a wrongful act in the performance of professional services. Insureds include independent contractors, as well as current and past employees. The program availability is subject to state insurance department approval. Affinity Insurance Services will be responsible for underwriting, marketing and policy administration; CNA will handle claims.
Dollars: Limits start at $100,000 and range up to $5,000,000 aggregate. A wide range of retentions are available from $1,000 to $50,000, and base rate premiums are very competitive.
Carrier: CNA rated "A," admitted.
States Available: All except Alaska, Connecticut, Louisiana, Mississippi, Nevada and New York.
Contact: CNA, Katrina Parker, (312) 822-5167 or Aon, Jeffrey H. Jacobs, (866) 461-1228, or visit www.agency-advantage.com.
From This Issue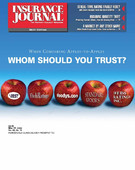 AAMGA Issue