Bringing Market Seekers and Market Providers Together
---
Find markets in our database
Promote your markets on our site
Join our community forums
Membership is free!
High Valued Homes
Market Detail: JH Insurance Services' high-valued homes facility will consider personal dwellings and homes with values from $500,000 to $10 million. Any high-valued home including ranch style, chateau and luxury apartments, and converted warehouses are eligible. CAT and non-CAT are taken into consideration. Other features: ISO standard property forms; deductible variations available; and associated personal liability are included.
Available limits: Minimum $500,000, maximum $10 million.
Carrier: Lloyd's of London.
States: All states except Ky.
Contact: Janet Beaver at 877-544-4399 or email: janet.beaver@jhinsurance.com.
Architects, Engineers, Design Professionals E&O
Market Detail: Apogee Insurance Group coverage includes the standard coverage provided by a typical architects & engineers professional liability policies, as well as includes technology risk coverage for electronic transfer of data, copyright infringement, web-hosting functions and privacy liability; contractors' pollution liability extension; ADA/FHA/OSHA regulatory actions reimbursement extension of $30,000 per policy period; defendants' reimbursement extension of up to $500 per day per subject to a maximum of $10,000 per claim; blanket waiver of subrogation provision for clients of the insured as required by contract; pre-claims assistance; and proactive claims management through experienced professionals. Risk management features include: live quarterly webinars, newsletters, dedicated risk management website and client retreat. Subject to the terms and conditions of the actual policy, claim are paid for: damages awarded against the assured defense costs and expenses. Limits are available up to $30 million. Target classes include: architects and engineers; construction managers; project managers and planners; design/build firms; forensic consultants; and environmental consultants.
Available limits: Maximum $30 million.
Carrier: Multiple markets available, admitted and non-admitted.
States: All states.
Contact: Gregg Quinn at 610-337-3200 or email: gquinn@apogeeinsgroup.com.
Workers' Compensation
Market Detail: Insurance Cloud Marketing Services Inc. has access to more than 10 insurance companies. Commissions vary from 5 percent to 10 percent. No prior acceptable lapse; acceptable paygo programs and a monthly reporting option is available.
Available limits: Minimum $500,000, maximum $1 million.
Carrier: Multiple markets available, admitted.
States: Ala., Ariz., Calif., Colo., Ga., Fla., Ill., Ind., La., Md., Mich., Minn., N.C., Nev., N.J., N.Y., Ohio, Ore., Pa., S.C., Texas, and Va.
Contact: Phil Duncan at 877-465-7473 or email: phil@icloudmarketing.org.
Trucking Workers' Compensation
Market Detail: Midwestern Insurance Alliance LLC focuses on the transportation industry (trucking, public auto and related, etc.) with workers' compensation coverage available. Midwestern is looking to expand its writings outside of its home region (Ky., Ind., and Tenn.). The program is designed for best-in-class transportation accounts, particularly those with limited to no interaction with freight.
Available limits: Minimum $500,000, maximum $1 million.
Carrier: Unable to disclose, admitted .
States: All states except Alaska, Conn., D.C., Fla., Ga., Hawaii, Mass., Minn., Mt., N.D., N.J., N.Y., Ohio, Ore., S.D., Wash., Wis., W.Va., and Wyo.
Contact: Robert Etzler at 619-876-4157 or email: retzler@k2ins.com.
Medical Staffing Firms
Market Detail: Manchester Specialty Programs Inc. covers home care, hospice and medical staffing firms. All lines with A+ rated carrier available on a national basis. Coverage includes professional liability, workers' compensation, business package (general liability, products, property, inland marine, and auto), third-party fidelity bond, and directors and officers(D&O)/employment practices liability insurance (EPLI). Professional liability limits of $1 million/$3 million with excess are available. Minimum premiums start at $5,000.
Available limits: As needed.
Carrier: Unable to disclose, admitted.
States: All states.
Contact: Bill Thompson at 603-264-5486 or email: wthompson@manchesterspecialty.com.
Was this article valuable?
Here are more articles you may enjoy.
From This Issue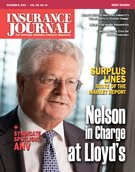 Surplus Lines: State of the Market / NAPSLO Issue; Lloyd's Syndicate Spotlight; Agency Financial Products Directory: Banks, Funding & Capital for Acquisition