My New Markets is brought to you by Insurance Journal's sister website: www.mynewmarkets.com
Need a Market? Find it. FAST.
---
Exclusive Liability Insurance Program for Continuing Care Retirement Communities
Market Detail: Highland Risk Services has an exclusive liability insurance product specific to continuing care retirement communities under the Empirical Risk brand. Coverage is available on both claims-made and occurrence forms, with excess capacity up to $10 million. Comprehensive risk management and litigation management programs are available at no additional cost to the insured.
Available limits: Minimum $1 million, maximum $11 million.
Carrier: Ironshore.
States: All states.
Contact: Brian Daly at 847-832-9100 or email: brian.daly@highlandrisk.com.
CondoPak: Property & General Liability
Market Detail: New Empire Group's CondoPak is an exclusive package policy. CondoPak was designed to meet the specific needs for superior cooperative, condominium and community associations..
Available limits: Maximum $25 million.
Carrier: HDI Gerling America.
States: Miss., Ala., Ga., S.C., N.C., Tenn., Ky., Ill., Ind., Wisc., Mich., Ohio, W.Va., Pa., N.Y., Maine, R.I., Vt., N.J., D.C., Dela., N.H., Mass., Md., and Va.
Contact: Rob Mackoul at 516-690-8116 or email: robm@newempiregroup.com.
Health & Fitness Centers
Market Detail: The Harry W. Gorst Co. has a package market for aerobic studios, corporate fitness centers, independent fitness centers, as well as franchised fitness centers. Packaged or monoline coverage is available. Automatic coverage for child sitting, personal trainers/aerobic instructors, four sport courts, jacuzzis, hot tubs, saunas and steam rooms is available. There are no liability deductibles and a broadened GL definition of bodily injury to include mental anguish and emotional distress. Packages may also include: ISO's 04/02 property coverage form; a special endorsement to include 14 coverages for a minimal flat charge; and equipment breakdown.
Available limits: Minimum $300,000.
Carrier: Unable to disclose, non-admitted.
States: Calif. only.
Contact: Erik Fulton at 800-437-6616, ext. 156 or email: efulton@gorst.com.
Playground Equipment Program
Market Detail: Partners Specialty Group LLC offers general liability including professional liability on an occurrence form for eligible exposures, including playground equipment installation contractors, equipment dealers and manufacturers.
Available limits: Minimum $500,000, maximum $2 million.
Carrier: Unable to disclose, non-admitted.
States: All states.
Contact: Angel Lightcap-Grisez at 513-563-3951 or email: alightcap- grisez@psgins.com.
Alarm Monitoring Companies
Market Detail: Brownyard Programs Ltd. coverage includes: professional liability; care/custody/control; CGL; workers' comp; umbrella; assault & battery; lost key; excess liability; blanket additional insureds.
Available limits: As needed.
Carrier: Unable to disclose, admitted and non-admitted available.
States: All states except D.C.
Contact: Customer service at 800-665-7304.
Technology Professionals E&O
Market Detail: Tennant Risk Services covers technology organizations that need professional liability and other specialty coverages to protect themselves from technology exposures. Professional services include: software designer/developer; website development; network/system administration; software as a service/web services; help desk/call centers; computer security; systems/IT consultants; and process control & robotics. Specialty insurers have a range of technology E&O products for these professional organizations, and many have additional cyber risk coverages.
Available limits: As needed.
Carrier: Various.
States: All states.
Contact: Bob Sargent at 860-519-1301 or email: rsargent@tennant.com.
Roofing Contractors
Market Detail: Commercial Sector Insurance Brokers LLC offers contractors general liability, excess liability and GL coverage.
Available limits: As needed.
Carrier: Unable to disclose, non-admitted.
States: All states except D.C., Hawaii, Maine, N.D., S.D., and Vt.
Contact: Lamar Andrews at 205-332-8117 or email: landrews@comsectorins.com.
Adult Entertainment/Gentleman's Clubs
Market Detail: Founders Insurance Co. offers affordable liquor liability protection for hard-to-place risks, including: live entertainment, late closings, new ventures, prior claims and more. Liquor liability features include: policy limits up to $1 million per occurrence/$2 million aggregate; defense costs covered in addition to the policy limit; additional insured coverage available; no deductible; and premium financing through subsidiary, where available.
Available limits: Minimum $100,000, maximum $1 million.
Carrier: Founders Insurance Co.
States: All states except Miss., N.J., N.M., Pa., S.C., Texas and W.Va.
Contact: Customer service at 800-972-8778.
Was this article valuable?
Here are more articles you may enjoy.
From This Issue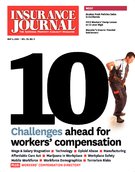 Workers' Comp Report with Directory; Restaurants & Bars; Recreation & Leisure