Parcel Delivery Companies
Market Detail: Gladius Insurance Services LLC (www.gladiusins.com) covers packages for parcel delivery companies (Amazon type operations). Coverage available includes: general liability, commercial auto, cargo and workers' compensation.
Available limits: As needed
Carrier: Unable to disclose, admitted
States: Ala., Ariz., Calif., Color., Conn., Fla., Ga., Idaho, Ill., Mich., Nev., N.J., N.Y., N.C., Ohio, Okla., Ore., Pa., S.C., Tenn., Texas, Utah, and Va.
Contact: Jenni Contreras at 877-587-4999 or e-mail: jenni@gladiusins.com
Specialty Lines Division
Market Detail: New Age Underwriters Agency Inc.'s (newageins.com) new Special Lines Division covers more difficult and higher risk accounts including (but not limited to): general aviation; primary; excess; multinational casualty; energy and construction; casualty domestic and foreign; global accounts; receivable insurance; environmental; general liability exposures; financial lines; kidnap and ransom; extortion; cannabis (property, GL and seed to sale); and more.
Available limits: As needed
Carrier: Unable to disclose
States: All states
Contact: Ed Sharples at 516-488-2312 or e-mail: esharples@newageins.com
Musicians & Entertainment
Market Detail: Sterling Risk Insurance (www.sterlingrisk.com) offers custom risk management from high-profile entertainers and athletes to music studios. Dedicated entertainment insurance professionals can help protect the business and personal assets of entertainment and sports clients. Special insurance programs available offering provide comprehensive cost-effective coverage, including: studio liability insurance with general liability coverage for home and commercial studios; special events liability insurance with protection for an event producer, promoter or performer from negligence claims for bodily injury or property damage from third parties; and instrument & equipment insurance designed for working music professionals.
Available limits: Minimum $1 million, maximum $11 million
Carrier: Unable to disclose, admitted and non-admitted available
States: All states
Contact: Robert Sperber at 516-417-5107 or e-mail: rsperber@sterlingrisk.com
Garage & Dealers
Market Detail: River Valley Underwriters (rvuins.com) offers coverage for products including coverage for used car dealers, motorcycle & ATV shops, heavy truck/tractor sales and repair, and more. Limits up to $1 million each accident/$2 million aggregate.
Available limits: As needed
Carrier: Unable to disclose
States: Ala., Ark., Ga., Ill., Ks., La., Miss., Mo., Okla., Tenn., and Texas
Contact: Andrew Adams at 501-944-2750 or e-mail: aadams@rvuins.com
Business Owners Policy (BOP)
Market Detail: Dovetail Insurance's (dovetailinsurance.com) small business commercial package can be quoted, bound and issued fast. Enter small commercial client information into Dovetail's cloud-based platform and get a quote for an admitted BOP from Metropolitan Property and Casualty Insurance Company rated A (Excellent) by A.M. Best Company. Then bind, issue and pay for policies on the spot. Program highlights include: limits up to $5 million total insured value per location; operations with up to 75 employees; annual revenue up to $5 million per location; new business ventures are acceptable. Target classes include: artisan contractors, offices, processing, professional services, restaurants (no liquor), retail stores, wholesalers and distributors. Consideration can be given for tenant occupancies that meet certain criteria.
Available limits: Maximum $5 million
Carrier: MetLife Auto & Home
States: Ala., Ariz., Calif., Fla., Ga., Ill., Ind., Ky., Md., Mich., Minn., Miss., Mo., Neb., Nev., N.H., N.J., N.M., N.Y., N.C., Ohio, Okla., Ore., Pa., R.I., S.C., Tenn., Texas, Utah, Vt., Va., Wash., W.Va., and Wisc.
Contact: Ryan Delman a 803-255-8891, ext. 158 or e-mail: rdelman@dovetailinsurance.com
CyberPro
Market Detail: Ascent Underwriting's (ascentunderwriting.com) CyberPro is a proprietary insurance product based on a modular from concept which combines comprehensive professional services coverage for technology and miscellaneous professionals with a cyber liability product, providing non-tangible risk insurance. The product covers network business interruption, ecommerce trading exposures, crime and protection from media, and intellectual property risks. CyberPro also includes loss control education and training; and full post breach crisis management assistance.
CyberPro is suitable for nearly all clients in most industry sectors and can be adapted to specific needs and requirements. Coverage is provided on a modular basis, with independent insuring agreements so that a policy holder can "pick and choose" their coverage according to requirements.
Available limits: Minimum $25,000, maximum $25 million
Carrier: Unable to disclose, admitted
States: All states
Contact: Caspar Stops at caspar.stops@ascentunderwriting.com
Was this article valuable?
Here are more articles you may enjoy.
From This Issue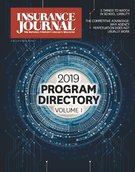 Programs Directory, Volume I; Market: Public Entities & Schools