Auto Physical Damage for Trucking
Market Detail: Transportation Insurance Experts (www.tiexperts.com) has a new insurance offering to the trucking industry. Targeting auto physical damage targeting risks $1 million TIV and above for clean to average performing risks. Admitted paper available in Ala., Ariz., Ill., Ga., Ind., N.M/, and Tennessee; non-admitted available in Ky., N.C., Neb., Wisc., and Wyo. Coverage can be bundled together with MTC. Flatbed, dry van, reefer, flatbed, OS/OW eligible. Cannabis haulers for packaged deals only (five units and above) will be considered. Rates bound as low as 2% of TIV.
Available limits: As needed
Carrier: Unique/Stonegate Insurance Company
States: Ala., Ariz., Ga., Ill., Ind., Ky., Neb., N.M., N.C., Tenn., Wisc., and Wyo.
Contact: Steven Munro at 404-796-8369 or e-mail: smunro@tiexperts.com
---
QSR & Casual Dining Restaurants
Market Detail: Blue Spruce Underwriters (www.bluespruceunderwriters.com) offers customized insurance for quick service and casual dining franchises. Exclusive carrier relationship with a singularly-focused P&C insurance provider that insures quick service (QSR) and casual dining restaurants by creating long-term relationships with professional insurance agents and franchisee clients. Uniquely tailored, comprehensive policies and risk management techniques available.
Available limits: As needed
Carrier: Unable to disclose, admitted and non-admitted
States: All states except Alaska and Hawaii
Contact: William Floyd at 615-922-2912 or e-mail: wfloyd@bluespruceunderwriters.com
---
New Venture
Trucking Package
Market Detail: Rocklake Insurance Group (www.rocklakeig.com) is offering a new package product for new venture truckers. Benefits to the insured include discounted rates, low down payments, monthly premiums based on mileage resulting in not overpaying for down-time. Policies are written on a direct bill basis for easy monthly billing. This program is targeted for new, single unit, owner driven risks with prior CDL experience operating with a long haul radius. Risks can grow to two units throughout the term. Dry van, Refrigerated, and Flatbed business categories accepted. Option for a standard 12-month policy with an agency bill plan if preferable.
Available limits: As needed
Carrier: Unable to disclose, admitted
States: All states except Alaska, Calif., D.C., Hawaii, Ill., La., Mass., Mich., Miss., Nev., N.J., and N.Y.
Contact: Derek Froidl at 800-716-2559 or e-mail: info@rlig.com
---
Sports & Entertainment
Market Detail: James River Insurance Co. (www.jamesriverins.com) offers coverage to a variety of classes including: Attractions; aquariums; art galleries; botanical gardens; caves; historical places; monuments; museums; parades; zoos; sports/motorsports; associations/leagues/teams; driving schools; pari-mutuel racing – horse/dog; ride & drive events; single events; sponsors; sports camps; sports performance training; tournaments; venues; amphitheaters; arenas; auditoriums; civic centers; convention centers; performing arts centers; stadiums; theaters; recreation; activity bars; batting cages; beach clubs; bingo parlors; bowling centers; campgrounds; camps; casinos; dude ranches; escape rooms; family entertainment centers; go-karts; golf course; health & fitness clubs; hunting & fishing preserves; indoor skydiving; laser tag; outfitters and guides; private swim clubs; ropes courses & ziplines; shooting ranges; tennis clubs; winter recreation parks; entertainment; circuses; comedy clubs; concerts; event planners; promoters; special events; traveling/touring performers; and variety shows.
Available coverages offered in conjunction with commercial general liability include: deductible & SIR structures available; legal liability to participants; horse/dog legal liability; trainers liability; contingent fireworks; liquor liability; medical payments; cyber liability; and hired & non-owned auto. Coverages/risks not eligible include: accident medical; prize indemnity; event cancellation coverage; inflatable amusements; amusement and water parks; axe throwing; cheers & gymnastics; paintball/airsoft; rallies/marches; and trampoline parks.
Available limits: As needed
Carrier: Unable to disclose, admitted
States: All states except Alaska, Calif., and Hawaii
Contact: John Clarke at 804-289-2700 or e-mail: info@jamesriverins.com
---
Food & Beverage
Insurance Program
Market Detail: Conifer Insurance Co. (www.coniferinsurance.com) provides coverage for the hospitality industry. The Conifer Food & Beverage Insurance Program is designed to serve the needs of the industry and provides liquor liability, general liability, and property coverage options to business owners in a competitive and comprehensive insurance package.
Available limits: As needed
Carrier: Conifer Insurance Co.
States: All states except Alaska, Calif., and Hawaii
Contact: Matt Webber at 866-412-2424 or e-mail: info@coniferinsurance.com
Was this article valuable?
Here are more articles you may enjoy.
From This Issue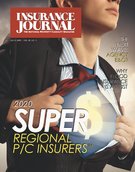 Super Regional P/C Insurers; Markets: Flood & Earthquake, E&O; Annual Ad Reader Study