Agribusiness
Market Detail: Sierra Specialty (www.sierraspecialty.com) offers an exclusive agriculture service program that includes: General liability & professional liability; occurrence or claims made; pollution cleanup for site and transit; fast quote turn-around & flexible rating; coverage extensions & higher limits available. Sierra Specialty's exclusive agriculture business service programs has the authority to underwrite, bind and issue competitive and comprehensive programs specifically designed for many of the services by and for the farm & agriculture industry, including: arborist tree trimming & pruning services; ag crop spraying; ag advisors (including chemical applicator advisor); farm managers; farm labor contractors; farm machinery operators and harvesters; hay baling services; landscape and gardeners; pest and weed sprayers and advisors; tree trimming and pruning services. Sierra Specialty's other programs include: farm & ranch programs for hard to place farmers; equine program (admitted and non-admitted); livestock mortality program (admitted); and preferred farm program (admitted).
Available limits: As needed
Carrier: Unable to disclose, admitted
States: All states except Alaska, Dela., Maine, Mass., Minn., Mont., N.H., N.Y., N.D., R.I., Vt., and W. Va.
Contact: Mark Schroeder at 559-256-6900 or e-mail: mark@sierraspecialty.com
---
Business Owners Policy
Market Detail: Hiscox's (www.hiscox.com) business owners policy provides general liability coverage and also protects business equipment. Anyone owns their office building should consider this coverage, as it may be covered as well, or if there have tools or equipment relied on to do work. Policies can be customized upgrades to get the right coverage and only pay for what is really needed. Highlights include: Online quotes in minutes online or by phone; broad appetite with same-day coverage for more than 180 professions; instant binding – policy documents are emailed immediately; direct billing and servicing handled by Hiscox; automatic renewal with the potential to earn commission for the lifetime of the policy, as long as you are the producer of record.
Available limits: Minimum $500,000
Carrier: Hiscox Insurance
States: Ariz., Calif., Colo., Conn., D.C., Ga., Ill., Ind., Md., Mass., Mich., Minn., Mo., N.J., N.Y., N.C., Ohio, Pa., Texas, and Wisc.
Contact: Partner Contact at 866-739-0727 or e-mail: 866-739-0727
---
Artisan Contractors
Market Detail: Striker Insurance Services, a Risk Theory company (www.risktheory.com), offers commercial auto & general liability to more than 80 classes of residential & commercial artisan contractors. Policies can be customized to meet the needs of contractors who are required to stay on the job and protect their daily operations. Eligible risks include: Residential and commercial artisan contractors; new residential construction; GCs and subcontractors requiring coverage flexibility. Commercial auto policies provide: $1 million CSL AL coverage; stated value APD; blanked additional insured; blanket waiver of subrogation; primary and non-contributory language; hired and non-owned AL and APD; broadened pollution; trailer interchange; and rental reimbursement. General liability policies provide: $1 million each occurrence; $2 million products- completed ops aggregate; $2 million general aggregate; practice policies; occurrence form; defense outside the limits; blanket additional insureds; blanket waiver of subrogation; primary and non-contributory language. Submission requirements: narrative, large losses and target premium; completed ACORD app; completed striker supplemental app; employee list; equipment and vehicle schedules; 5 years of currently valued loss runs (within 90 days).
Available limits: As needed
Carrier: Unable to disclose, admitted and non-admitted available
States: All states except Alaska, Fla., Hawaii, La., N.Y., Okla., and Texas
Contact: Brian Atkinson at 469-310-9142 or e-mail: batkinson@riskpoint.com
---
FedEx Contractors
Market Detail: SAGE Program Underwriters (www.sageuw.com) offer coverage for: FedEx Group ISP or CSP contractors; P&D; line haul; Amazon; line haul only; local, intermediate or long haul. Coverage features include: access to exclusive top rated and stable insurance company partners; competitive rates and commissions; extensive industry knowledge; exclusive insurance provider for the National Ground Delivery Association (NGDA); flexible payment plans; approved safety and training programs paid for by SAGE; and free membership in NGDA.
Available limits: As needed
Carrier: Unable to disclose, admitted
States: All states except Alaska, Hawaii, North Dakota, Ohio, Washington, and Wyo.
Contact: Chuck Holdren at 833-724-3111 ext. 700 or e-mail: info@sageuw.com
---
Captive Workers' Compensation
Market Detail: Gray Specialty (www.grayspecialty.com) provides buffer layers of excess workers compensation coverage to captives, qualified self-insureds, self-insured groups, joint powers authorities and associations. Self-insured retentions as low as $100,000 are available; limits of up to $1 million are available. Coverage is offered on an admitted basis. Coverage may also be offered on a facultative reinsurance basis if necessary for alternative risk clients. The admitted coverage fits below the excess carrier's attachment and allows the insured to lower their retention to levels not found in the excess workers' compensation marketplace.
Available limits: Minimum $100,000, maximum $1 million
Carrier: The Gray Insurance Co.
States: All states
Contact: Robert Swayze at 504-754-6701 or e-mail: rswayze@grayspecialty.com
Was this article valuable?
Here are more articles you may enjoy.
From This Issue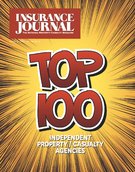 Top 100 P/C Agencies; Markets: Recreation & Leisure, Condos