Creative Commercial Lines
Market Detail: Creative Underwriters (www.creativeunderwriters.com ) offers property coverage for the following risks: Adult day care program; amusement; animal services; apartment house; auto service risks; bakery; bar/tavern; beauty/barber shop; bed & breakfast; caterers and halls; church; club; condominium/homeowners; consultants program; day nursery or preschool program; distributors & wholesalers; dwelling; employment risks; exercise & health studio; flea market program; golf course, miniature golf course, driving range; grocery/convenience store; halfway house; home health care; lessor's risk; light hazard products manufacturing; machine shop; martial arts studio; medical equipment supply stores; mobile home parks and campgrounds; motel; office building; pawn shop; restaurant/deli; schools; selected mercantile; shopping center; sports camps/clinics/leagues; surfing/paddle board instruction & beach equipment rental; swimming pool management/lifeguard; tanning salon; telecommunications – commercial; vacant building; warehouse; welding; wind and solar energy; woodworking/cabinetmaking. General liability coverage available for: Alarm installation program; artisan contractors; boat deck construction; communications equipment-residential; contractors equipment rental; demolition contractors program; detective or investigative; entertainment; excavation/grading of land; exterminators & pest control; food & beverage manufacturing;
foreclosure/eviction cleanup; general contractors; hotels/motels/ hunting clubs, preserves & shooting ranges; janitorial; landowners; landscaping; machinery and equipment – installation, servicing or repair; outfitters and guides; owners and contractors protective liability; parking lot/driveway; pressure cleaning; push cart and flea market vendors; recycler; remodeling; security and patrol; special events; swim and racquet club; swimming pool contractors, dealers and installers; swimming pool maintenance; transportation services; tree trimmers; and truckers.
Available limits: As needed
Carrier: Unable to disclose
States: Ala., Ark., Colo., Dela., Ga., Idaho, Ill., Ind., Iowa, Ks., Ky., La., Maine, Minn., Mo., Neb., Nev., N.M., N.C., N.D., Ohio, Okla., Ore., Pa., S.C., S.D., Tenn., Utah, Va., Wash., W. Va., and Wisc.
Contact: Rhonda Daugherty at 800-769-4321 or e-mail: PandC@creativeunderwriters.com
Garage Products
Market Detail: American Management Corporation (www.amcinsurance.com) provides coverage for garage risks involved in the selling and servicing of "autos." Service operations engaged in repairing, towing, servicing, salvaging and valet parking of "autos" are also eligible. Coverages include: Garage liability & scheduled auto liability; garagekeepers and in-transit schedule; auto physical damage for scheduled service units; dealers physical damage – non-reporting only; medical payments; fire legal liability; uninsured motorists/underinsured motorists; personal injury protection; garage property (non-admitted only). Unique classes that will be considered: antique/class auto dealers; antique/classic auto restoration; auctions; bedliner installation; car wash – full service; emergency vehicle sales and service; horse trailer sales and service; truck tractor sales and service; van conversion; mobile mechanics; mobility equipment sales and installation; motorcycle/ATV sales and service; motor home sales and service; oil and lube shops; parking structures; roadside assistance; salvage yards; scooter/moped sales and service; tow truck operators (non-fleet); RV/travel trailer sales and service; truck stops (rural); and valet parking services.
Available limits: As needed
Carrier: Lloyd's of London
States: Ala., Ariz., Ark., Calif., Colo., Fla., Ga., Idaho, Ill., Iowa, Ks., Ky., La., Miss., Mo., Neb., Nev., N.M., Okla., Ore., Tenn., Texas, Utah, and Wash.
Contact: Dylan Flores at 501-932-5821 or e-mail: Dylan.flores@amcins.com
Alarm Contractors Program
Market Detail: Amwins Program Underwriters' (www.amwins.com) alarm contractors insurance program focuses on protecting various types of alarm contractors that are enlisted to install, test, service, and repair commercial and residential alarm systems. The program is available on an admitted in partnership with a carrier rated "A-" by A.M. Best. Amwins Program Underwriters' Alarm Contractors program is available nationwide. Eligible accounts for the program include: Fire, burglar, access control, closed circuit television; commercial & residential; sales & service; installation. Lines of coverage offered by the program: General liability – Errors and omissions endorsement, lost key coverage, care, custody, & control; where required by contract: additional insured; waiver of subrogation; inland marine; miscellaneous tools & equipment – property, building, business personal property, equipment, fixtures, furniture, merchandise; and umbrella. Limits for line of coverage: general liability – $1million/$2 million; inland marine – $100,000; property – $1 million; umbrella – up to $5 million. Submission requirements for alarm contractors accounts: alarm contractors supplemental application; industry standard applications for all lines requested; five years currently valued loss runs (or resume of key personnel if in business less than five years); and copy of contracts utilized.
Available limits: Minimum $5,000
Carrier: Fortegra Specialty Insurance, admitted
States: All states
Contact: Shawn Fabors at 214-220-9854 or e-mail: shawnfabors@amwins.com
Was this article valuable?
Here are more articles you may enjoy.
From This Issue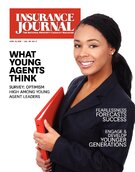 The Young Agents Issue w/ Survey Results; Markets: Directors & Officers Liability