Habitational
Market Detail: Insurance Specialty Group's (ISG) (www.insurancespecialtygroup.com) habitational program provides a comprehensive package of insurance policies to protect condominium communities or apartment complexes. ISG's habitational program has no restrictions on the age of the property. Coverage features include package policies, property, general liability, crime and monoline coverage. Also available: hired & non-owned automobile, equipment breakdown, business income, sewer back-up and building ordinance. Limits for property up to $15 million TIV per location; general liability: $1 million/$2 million with $2 million/$4 million available; crime up to $100,000. Special features: no age restrictions (coverage not available for buildings listed on historic register); enhanced commercial property coverage included at no charge; apartment owners endorsement available; mortgage and loss payee endorsements included; CP1410 endorsement available for condominium associations.
Available limits: As needed
Carrier: Unable to disclose, non-admitted
States: Ariz., Calif., Colo., Nev., Ore., and Wash.
Contact: Jill Bay-Webber at 678-938-5126 or e-mail: jbaywebber@isgins.com
Cannabis Pollution Coverage
Market Detail: UCPM Environmental Insurance (www.ucpm.com) covers the rapidly growing cannabis industry and its various business operations, including cultivators and manufacturers. Many of the businesses that are involved in the cannabis industry face pollution exposures that are not adequately covered under standard lines of insurance. The exposures can vary depending on the businesses' operations, and for growers and cultivators, whether their operations are indoor or outdoor. Some of the common exposures faced by cannabis operations can include: mold; carbon dioxide; waste disposal; chemicals/solvents; storage tanks; wastewater/sludge; odors; pesticides/herbicides. Target classes: growers; cultivators; processors; manufacturers and dispensaries. Coverage highlights include: site pollution liability; mold growth on onsite structures; separate defense limit up to $250,000; onsite and third party cleanup; third party bodily injury and property damage; transportation pollution liability; non-owned disposal site liability; and natural resource damages.
Available limits: Minimum $1 million
Carrier: Unable to disclose, non-admitted
States: All states
Contact: Bart Jarman at 800-685-8185 or e-mail: bjarman@ucpm.com
Building Material Dealer Insurance
Market Detail: Pennsylvania Lumbermens Mutual Insurance Company (PLM) (www.plmins.com) has been a dedicated insurer for lumber, woodworking and building materials industries since 1895, offering property, casualty, and inland marine insurance. Target classes include: building material dealers; lumberyards; masonry yards; electrical, plumbing or drywall suppliers; lumber brokers and distributors. Agents can write business without getting appointed or obtaining a contract – PLM operates on an open brokerage basis and is available to work with all licensed insurance producers. No premium or volume commitments.
Available limits: As needed
Carrier: Pennsylvania Lumbermens Mutual Insurance Company (PLM)
States: All states except Alaska and Hawaii
Contact: Susan Cho at 800-752-1895 or e-mail: scho@plmins.com
Hobby Farm Insurance
Market Detail: Tower Services Inc. (www.tower-services.com) provides hobby farm insurance in the Southeast. Package policies are designed for homeowner's with incidental farming operations or large acreage.
Available limits: Minimum $1,000
Carrier: Various, admitted
States: Ala., Ga., Md., Miss., N.C., S.C., and Tenn.
Contact: Patrick Anderson at 888-440-4381 or e-mail: panderson@tower-services.com
Demolition Contractors
Market Detail: Norman-Spencer (www.norman-spencer.com) has demolition products that specifically fit the needs of the insureds. Product highlights include: A-rated carriers; blanket additional insured; blanket waiver of subrogation; per project aggregate; blanket primary and non-contributory wording; admitted and non-admitted products available; blasting operations eligible. Lines of business available include: auto liability; auto physical damage; general liability; property and equipment; and excess liability.
Available limits: As needed
Carrier: Unable to disclose, admitted and non-admitted available
States: All states except N.Y.
Contact: Greg Rose at 937-432-1637 or e-mail: gregrose@norman-spencer.com
Was this article valuable?
Here are more articles you may enjoy.
From This Issue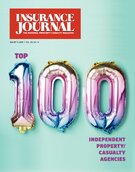 Top 100 P/C Agencies; Markets: Recreation & Leisure, Condos; Special Supplement: The Florida Issue