Michael Donnelly
Professional Lines Underwriting Specialists Inc. (PLUS), an Austin-based professional liability insurance wholesaler, named Michael Donnelly as vice president. Donnelly comes to PLUS after spending his entire career in the Philadelphia, Pa. area. Prior to joining PLUS, Donnelly was second vice president and underwriting manager of the Directors and Officers/Employment Practices Liability Division of United States Liability Insurance Group, a Berkshire Hathaway Company. His responsibilities included the drafting of endorsements and policy forms, determining underwriting and pricing guidelines, and the marketing strategy for eight specialty insurance products. Donnelly is a frequent speaker on professional liability topics both inside and outside the insurance industry. He earned his Registered Professional Liability Underwriter (RPLU) designation in 2000. Donnelly began his career at Aon Corporation in Trevose, Pa. where he specialized in lawyers professional liability insurance.

Liz Dunn
McClelland and Hine promoted Liz Dunn to vice president. Dunn has been with the company since 1986 and manages the Administrative, Claims, Processing and Premium Finance operations of the agency.
McClelland and Hine, a managing general agent and excess and surplus lines broker with offices in San Antonio, Houston and Dallas has been serving Texas Agents since 1982.

Nathan Holt
Nathan Holt joined the Dallas/Fort Worth office of Burns & Wilcox Ltd. in the position of transportation manager. As transportation manager, Holt's duties will include underwriting commercial auto and garage risks, as well as overseeing the transportation team. Holt brings 30 years of commercial underwriting experience to his position, as he works to grow and expand the Burns & Wilcox Transportation department. Prior to joining Burns & Wilcox, Holt served as commercial operations manager for W.N. Tuscano Agency Inc. in Greensburg, Pa. Previously he spent 14 years at Gainsco in Ft. Worth, Texas as vice president of underwriting.

Bob Marder
Dickinson, Texas-based MaximInsurance recently added a new associate, Bob Marder, to its team of insurance professionals. Marder will serve as employee benefits specialist for the organization, selling the medical and supplemental insurance lines represented by MaximInsurance. Prior to joining MaximInsurance, he served as a partner with Marder + Associates Inc., specializing in employee benefits, supplemental programs and retirement planning.
Dallas-based MarketScout announced the expansion of its underwriting capabilities with the addition of three new underwriters.

Sabrina Kukla
Sabrina Kukla has joined MarketScout's Energy team. She will be quoting American Home for general liability, workers' compensation and auto, as well as James River for GL and excess. MarketScout's Energy team writes coverage for energy and oil and gas accounts including all types of contractors, lease operators, refineries, mining and utility companies.
Barbara Larreau is leading the firm's efforts in expanding the elite personal lines offering by quoting AIG's Private Client Group. MarketScout enjoys an 82 percent hit ratio on accounts with homes over $1,000,000 and regularly wins business from Chubb and Fireman's Fund. To access the MarketScout program the account must generate $10,000 premium.
Jennipher Acedo has joined MarketScout as lead underwriter on nine new states provided by ACE. Jennipher quotes workers' compensation from $3,500 to $125,000 premium in the following states: Arkansas, Delaware, Kentucky, Maine, Maryland, Minnesota, Nevada, Rhode Island and Utah.
Argonaut Group Inc., based in San Antonio, announced that Allan W. Fulkerson and David Hartoch were elected as new directors of the company, replacing retiring directors Judith R. Nelson and Jerrold V. Jerome.
During their tenure on the board, both Nelson and Jerome served as chairpersons of the Audit Committee. Jerome also served as chairman of the board.
Allan W. Fulkerson has served as president and a director of Century Capital Management Inc., a registered investment advisor that specializes in the financial services industry. Fulkerson also serves as a director of HCC Insurance Holdings, Inc.
David Hartoch has served as chairman and chief executive officer of Swett & Crawford from 1997 to 2003, where he currently acts as a consultant following his retirement. Prior to that, Hartoch was president and chief operating officer of Sherwood Insurance Services and in 1993 served as president of the NAPSLO trade association.
The Arkansas Workers' Compensation Commission (AWCC) recently named Frank Arey, a one-time special appointee to the state's Court of Appeals, as its newest Administrative Law Judge (ALJ). Since August 2000, Arey has been with the Department of Arkansas Heritage, managing three of the department's agencies. He handled legislative and legal issues in addition to other duties. Prior to Arkansas Heritage, he was chief counsel for the state Department of Human Services, managing the Office of Chief Counsel consisting of 150 attorneys, auditors, fraud investigators, hearing officers, and support staff. He was an Arkansas Court of Appeals judge from May 1997, to December 1998, filling an interim vacancy when appointed by Gov. Mike Huckabee. He participated in more than 305 decisions at the state's second highest court. He also has served in private practice.
Fireman's Fund Insurance Company (FFIC), the California-based subsidiary of Germany's Allianz, announced that Jeff Post has resigned as CEO and president for personal reasons and will leave the company at his own request. His replacement is Fireman's Fund Board member Charles (Chuck) Kavitsky, who will step down from his current position as president of Allianz Life, effective immediately.
Post joined Fireman's Fund in May 1994 as chief actuary and was appointed CFO in January 1996. He became CEO in January 2001.
Kavitsky joined LifeUSA in 1995 where he was part of the senior management of the company and was also responsible for product development. Allianz Life acquired LifeUSA in 1999. In 2002, Kavitsky was appointed president of the new Allianz Life.
American Collectors Insurance Inc., a national specialty provider of collector vehicle and collectibles insurance, announced the promotion of two senior executives. Jill Bookman has been named as the new CEO, and Melissa Trought becomes the new COO/CFO.
Bookman, who previously served as VP-sales and marketing, said her vision includes expanding the availability of the company's collector vehicle and valuable collectibles policies by further developing the company's distribution capabilities. She also aims to enhance the company's track record in customer service and technology.
Trought, who previously served as VP-operations, said her focus is to continually seek ways to speed and streamline the customer's experience with American Collectors. She managed the company's digital imaging project, now in its second expansion, which has allowed many operations to be managed on a "paperless" basis. Trought joined the firm in 1992 as an assistant to the secretary/treasurer.
The Independent Insurance Agents & Brokers of America's Board of State Directors nominated William G. Stiglitz III as the association's president-elect, and has elected Alex Soto, as its next vice president.
Stiglitz will assume his new office at the 2004 Big "I" Convention in Orlando this October. Soto will move up to the vice president position at the same meeting. Stiglitz and current IIABA President-Elect Thomas A. Grau, will be sworn in as president-elect and president, respectively, during the convention's closing general session.
Stiglitz, currently the Big "I" vice president, is an account executive with the firm of Hyland, Block & Hyland Inc., in Louisville, Ky. He was elected to the Executive Committee in October 2000.
Soto, currently an at-large member of the Big "I" Executive Committee, is president of Miami, Fla.-based InSource Inc. He was elected to the Executive Committee in October 2001.
Was this article valuable?
Here are more articles you may enjoy.
From This Issue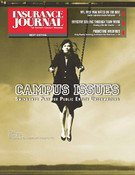 Public Entities