Wayne Cwik
As part of its previously announced management restructuring, Neenah, Wis.-based Jewelers Mutual Insurance Co. promoted Wayne Cwik to vice president of actuarial services and JMI Insurance Services. Cwik will direct rate setting, rate and form filings with state insurance departments and compliance with regulatory requirements. He also will oversee the efforts of JMI Insurance Services, the insurer's wholly owned agency serving Alaska, Arizona, California, Idaho and Washington.

Connie Rank-Smith
Connie Rank-Smith is now vice president of human resources and administration, adding responsibility for the company's purchasing, supply and mail room functions. Ronald Harder will continue his role as president and CEO while Darin Kath will continue as COO. Other members of the new executive team, which will include a yet-to-be-named chief financial officer, are Jeff Mills, vice president of claims, and Bev Kargus, vice president of information technology.

Richard Smith
GE's Employers Reinsurance Corp. (GE ERC) has named Richard F. Smith its chief operating officer and Marc Meiches as its chief investment officer. As COO, Smith will lead continuing reinsurance, commercial insurance and life insurance business units as well as the company's property/casualty product management teams. Smith has previously been responsible for the company's $4 billion property/casualty reinsurance operations.

Marc Meiches
Meiches will be responsible for investment portfolios totaling $57 billion, business development and the management of discontinued operations. He will continue to serve also as the company's chief financial officer until a replacement is selected. Both Smith and Meiches are vice presidents of the General Electric Co., and will continue to report to Ron Pressman, CEO of GE ERC.

Alex Lehmann
The Swiss-based Zurich Financial Services Group announced the appointment of Axel P. Lehmann as CEO of Zurich North America Commercial (ZNA), effective September 2004. He succeeds John Amore who, as announced on April 2, is assuming his global leadership role as CEO of General Insurance. While Amore and Lehmann "are retaining their current assignments until September, they will soon start the processes to ensure a smooth transition into their new roles," according to a statement.
As CEO of ZNA, Lehmann will oversee all Zurich North America General Insurance activities. The heads of Zurich North America units will report to him, and, on behalf of the group executive committee, he will provide the GEC leadership for the US small business strategy development. He joined Zurich in 1996 and has held various positions in corporate development and executive management. He was appointed to the Group Management Board in 2000 and he joined the GEC as CEO of the continental Europe business division in March 2002. Zurich said his successor at the helm of the European General Insurance businesses will be announced at a later date.
Minneapolis-based workers' compensation insurer and third-party administrator RTW Inc. has appointed Glen Dye as general manager for the company's Michigan and Colorado operations. Dye will be responsible for the operation and profitability of RTW's offices in Michigan and Colorado.
Dye previously served with RTW from 1998 through 2002 as the vice president of sales and marketing for the company's Denver office. Dye was instrumental in stabilizing RTW's Colorado business and improving profitability in that region prior to his departure from the company. He also played a significant role in developing the underwriting risk assessment and pricing systems and processes in the company. Before joining RTW, Dye served with USF&G from 1986 to 1998 in various roles.
RTW manages workers' compensation programs for insured and self-insured employers using its proprietary management systems. RTW offers its services to employers in Minnesota, Wisconsin, South Dakota, Colorado, Michigan and Indiana. Clients span many industries, including manufacturing, health care, hospitality and wholesale/retail.
David Kurland has been hired as vice president of business development at Property Loss Consulting Inc., an independent adjusting firm with regional offices in Baltimore, Atlanta and Dallas. Kurland will expand upon the company's current niche in the marketplace, handling large and complex losses. He will work closely with Independent Mitigation and Cleaning/Conservation and develop the infrastructure within Property Loss Consulting Inc. for handling the virtual adjuster segment of the business. Kurland will expand Property Loss's catastrophe operations.
Kurland has over 24 years experience in the insurance industry. Most recently, he served as assistant vice president of home office claim operations for EULER, ACI. Prior to that, he worked at Zurich Insurance Group, Crum & Foster Commercial Insurance, Orion Group and Underwiters Adjusting Co., where he held various management, consulting and technical positions.
ACE USA, the U.S.-based retail operations of the ACE Group of Cos., named Gary Ratzker to the position of vice president, strategic planning & business implementation for ACE Risk Management (ARM). Ratzker will have overall responsibility for product development and the execution of new business initiatives for ACE Risk Management.
With more than 18 years of retail brokerage and risk management industry experience, Ratzker joins ACE USA from Willis North America, where he most recently served as marketing manager for its New Jersey operations. Prior to his tenure with Willis, he served in a variety of broker, marketing and risk management positions with Aon Corp., Hilb, Rogal & Hobbs (HRH) and Hub International.
Was this article valuable?
Here are more articles you may enjoy.
From This Issue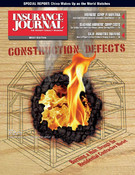 Contractors