Thomas Tierney

William Brooks

Heather Philbin
The Vermont Mutual Insurance Group, based in Montpelier, has elected Thomas J. Tierney, currently president and chief executive officer of the group, to be chairman of the board. The election took place at the company's 177th annual meeting recently. Tierney replaces William H. Brooks, the outgoing chairman, who is retiring after 40 years with the company. The group is made up of three companies selling property casualty in all six New England states and New York.
Heather Philbin was announced as the new executive director of Trusted Choice, according to Big "I" Executive Vice President Debra Perkins. Trusted Choice is the consumer marketing brand created by the Independent Insurance Agents & Brokers of America (the Big "I") and different independent agency companies. Philbin will manage the day-to-day operations of the Trusted Choice brand, including strategic planning and implementation; recruiting agents and brokers as well as carriers, advertising, Web site management, and public relations activities. She joins Trusted Choice from CGI (formerly American Management Systems), a Fairfax, Va.-based business and information technology consulting firm.

Richard Maka
Richard J. Maka has been named the new director of marketing at the American Association of Insurance Services (AAIS), a national advisory organization that develops policy forms and rating information for U.S. property/casualty insurers. Maka has more than 14 years of experience in insurance, and most recently served as senior vice president and marketing manager for Aon Corporation's Financial & Professional Risk Solutions Inc. in Chicago.

Benjamin McKay
The Property Casualty Insurers Association of America (PCI) announced that Benjamin J. McKay III, former chief of staff for U.S. Representative Katherine Harris (R-Fla.), will serve as the new director of federal affairs in its Washington D.C. office. Before working for Rep. Harris, McKay served for over a decade as senior staff in both the Florida House and Senate. His tenure included service to legislators on the insurance committees of both chambers.
W. Birks Erskine has joined the New York office of American E&S Insurance Brokers as assistant vice president, according to Denis Brady, president and chief executive officer. Erskine has more than 25 years experience in large casualty and alternative risk financing.
Harleysville Insurance of Harleysville, Pa., recently announced new appointments in three field offices in the Mid-Atlantic and Midwest regions. The appointments include: Michael L. Happe, resident vice president of Harleysville Insurance Company, a subsidiary headquartered in Edina, Minn.; John J. Iannello, resident vice president of Harleysville's New Jersey branch office, in Moorestown, N.J.; and Robert R. Southard Jr., resident vice president of the company's Chesapeake branch office, in Owings Mills, Md.
Happe joined Harleysville from the National Association of Mutual Insurance Companies. In his new position, he oversees Harleysville's subsidiary serving Iowa, Kansas, Minnesota, Missouri, Nebraska, North Dakota, South Dakota and Wisconsin. Iannello was promoted to commercial lines underwriting regional manager in 2002. In his new role, he is responsible for New Jersey operations. Southard joined Harleysville from the St. Paul Companies' Florida operations. In his new position, he oversees Delaware and Maryland operations.
Massachusetts Insurance Commissioner Julianne Bowler has named three carrier representatives and two producer representatives to six year terms on the governing committee of Commonwealth Auto Reinsurers. The new appointees who replace members whose terms expired are: William Cahill of Hanover Insurance Co.; Margaret Dillon of Liberty Mutual; Alan Krapf of USAA Property and Casualty; William Hoffman, Provider Insurance Group in Belmont and Joseph Vargas of Vargas & Vargas Insurance in Dorchester. The governing committee is responsible for the administration of CAR, the state's auto insurance residual market. In addition to the five newly appointed members, the committee also includes Arthur J. Remillard, Jr., Commerce Insurance Co.; Charles I. Boynton, Boynton Insurance Agency; David F. Brussard, Safety Insurance Agency; Dennis F. Murphy, D. Francis Murphy Insurance Agency; Steven W. Myers, Norfolk & Dedham Group; Susan K. Scott, Premier Insurance Co. of Mass.; Mark R. Silva, Benson, Young & Downs Insurance Agency and James J. Tarpey, Tarpey Insurance Group.
Suzette Cyr, of the RL & G Agency Inc., North Franklin, Conn., and a member of the Professional Insurance Agents of Connecticut Inc., was named the state winner of the 2004 Outstanding Customer Service Representative of the Year by the National Alliance for Insurance Education & Research. Cyr now is eligible for the National Society of Certified Insurance Service Representative's CSR of the year award.
Jacqueline L. Adkins, a claims management specialist with Norfolk, Va.-based Hilb, Rogal & Hobbs Company, has been named the 2003 National Accredited Customer Service Representative of the Year by the Independent Insurance Agents & Brokers of America. Adkins is a 28-year veteran of the independent agency system.
The Association of Professional Insurance Women Inc. (APIW), based in New York, recently announced the 2004-2006 board of officers and advisors: President Laurie Kamaiko, partner, Edwards & Angell LLP; First Vice President Stephanie Davenport, vice president, John P. Woods & Co. Inc.; Second Vice President Suzanne Kaminski, president, SMK Consulting; Treasurer Isabel Silvestri, vice president of Arthur J. Gallagher & Co.; Communications Officer Maryanne Sherman, president of Sherman Think Tank; Corporate Secretary Paula Giles, senior claims representative, State Farm Fire & Casualty Company.
APIW advisors are Maddy Lichtman, senior vice president of Marsh USA Inc., who will also serve as immediate past president, and JoAnn Ferrara, assistant vice president, Munich American Risk Partners. Other advisors include Cheryl Vollweiler, partner, Wilson, Elser, Moskowitz, Edelman & Dicker LLP; Jennifer Maddrell, associate product line manager, Swiss Re; Jacqueline Walsh, vice president, Lloyd's America; Denisa Sevastita, assistant vice president, Alea North America Co.; and Catherine Kaladjian, senior vice president, Endurance Re. Ann Murphy, Prairie State Administrative Services, will continue to serve as Chicago liaison.
Was this article valuable?
Here are more articles you may enjoy.
From This Issue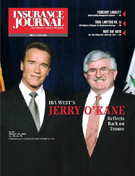 Commercial Property