Tony Casabat
Redwood City, Calif.-based ABD Insurance and Financial Services hired Tony Casabat as senior vice president/sales executive for the company's Employee Benefits practice. Casabat, a longtime lead sales and client management employee benefits broker and consultant, has worked with numerous companies in a broad range of industries including high tech, biotech, retail, financial services, property management, transportation and entertainment. Casabat has worked with Bay Area clients for nearly 25 years. He began his career at Aetna. In 1983, he joined a privately held brokerage firm in San Francisco succeeding through multiple mergers and acquisitions. He served during the last five years as a principal in the Bay Area office of Mercer Human Resource Consulting.

Carlen Gibson
The American Agents Alliance is pleased to announce the election of Carlen Gibson and Kelly Turton to its board of directors. Both Gibson and Turton are longtime members of the association and have been actively involved in agent/broker issues for many years. Gibson has owned and operated Prospector Insurance Agency in Shingle Springs, Calif., since 1993. Turton has been the owner of Freeway Insurance since he founded it in 1987. As a board member, he plans to tackle issues on behalf of independent agents and brokers.

Kelly Turton
The National Association of Insurance Commissioners elected four officers for 2005 during the NAIC Winter meeting. NAIC members elected Pennsylvania Insurance Commissioner Diane Koken as president, Maine Insurance Superintendent Alessandro Iuppa as president-elect, Oregon Insurance Administrator Joel Ario as vice president, and Kansas Insurance Commissioner Sandy Praeger as secretary-treasurer.

Diane Koken
Koken currently serves on several key committees, including chair of the internal administration subcommittee, the market regulation and consumer affairs committee; the financial condition committee; the government affairs task force and the speed to market task force. She is also a member of the National Insurance Producer Registry board of directors. Koken's tenure as Pennsylvania insurance commissioner began in August 1997.
Iuppa was appointed Maine's superintendent of insurance in 1998 and was re-appointed to a second term in 2004. He is chair of the NAIC's reinsurance task force and vice chair of the capital adequacy task force. At the 2004 International Association of Insurance Supervisors annual meeting, Iuppa was elected to serve a two-year term as chair of the IAIS executive committee.
Ario currently is vice chair of the internal administration subcommittee and chairs the NAIC's market regulation/consumer affairs committee and the statistical information task force. He also serves on the government affairs task force and the speed to market task force and chairs the NIPR board of directors. Ario has been with the Oregon Insurance Division since 1995, where he has been serving as insurance administrator since 2000.
Praeger chairs the health insurance and managed care committee and serves as vice chair for the NAIC Midwestern zone, the government affairs task force and the privacy issues working group. Praeger was elected as Kansas' 24th Commissioner of Insurance in 2002, and began serving in the position in 2003. She was previously elected to the Kansas Senate in 1992, 1996 and 2000.

Stephen D'Arcy
Stephen D'Arcy, professor of finance at the University of Illinois at Urbana-Champaign, began his term as president of the Casualty Actuarial Society at the organization's annual meeting. D'Arcy has been a fellow of the CAS since 1975 and joined the faculty at the University of Illinois in 1981. Prior to that, he was an actuary at CUMIS Insurance Society. D'Arcy has served on a variety of committees at the CAS, including the board of directors and served as the chairman of both the long range planning committee and the task force on education and testing.
Portland, Ore.-based Kent Wholesale Insurance Brokers has hired Lisa Pierceas vice president. She will be responsible for marketing and placing auto and contractors risk in the Pacific Northwest. She comes to Kent with eight years of experience in the retail sector. She previously served as marketing manager for Fullerton and Co, a large regional agency. She also oversaw a crane and rigging program and managed an auto dealer program for two other well-known regional retailers.
Pasadena, Calif.-based Western Security Surplus Insurance Brokers Inc., announced several new appointments.
Andrea Zenner, vice president, who has been with the company for 16 years, will become the Pasadena branch manager. Zenner will oversee the growing staff.
Judy Hall, a vice president in the Pasadena office, will assume Zenner's former duties with her new role as underwriting manager. Hall has been with WSS for almost 10 years and specializes in contract markets.
Christine Schmidt, who has been with WSS since 1996, will begin training as an underwriter in the Contract unit.
Anita Cowman, who previously served in accounting, will begin training as a technical assistant. She has been with WSS since 1996.
San Diego-based John Burnham Insurance Services has promoted Dena Williams to director of sales and marketing with responsibility for business development, client retention and the management of insurance company relationships. She will also serve as the liaison between John Burnham Insurance Services and its parent company, Union Bank of California. Williams has been affiliated with JBIS since 1990. During that time, she has developed insurance products and programs for mid- to large-size organizations including governmental entities and publicly- and privately-held corporations. Williams is also a speaker on a variety of risk management topics including workers' compensation, loss portfolio transfers, employment practices liability, contractual liability, directors and officers liability and employee benefits.
Willis Group Holdings, the global insurance broker, announced that it has hired three former Marsh employees in its new Las Vegas office. Charles Halsey joined the company as senior vice president and office leader for the new office. Halsey, who has 30 years of insurance industry experience, most recently worked in the Las Vegas office of Marsh where he served as a client executive and in New Business Development for over 12 years. Dianne McClyment and Vicki Campion, both client service professionals who previously worked in the Las Vegas office of Marsh, have joined Willis in Las Vegas as well.
Los Angeles-based Swett & Crawford named Catherine Snyder manager of its Top Floor Hospitality program, a package of property, boiler and machinery and crime coverages for hotels and motels. Snyder began her career as an account manager on middle market and risk management acoounts in 1991 at Tollins Burdick and Hunter, which was later acquired by Aon. In 1999, she moved to the wholesale side and eventually became a managing underwriter at Swett & Crawford. In addition to her new role managing the Top Floor program, her responsibilities include underwriting management for employment practices liability and lawyers errors and omissions programs.
The Fresno, Calif., office of national specialty insurance wholesaler, underwriter and managing general agent Burns & Wilcox, has promoted Caroline Dituri to senior broker. As senior broker, Dituri is responsible for marketing and production of commercial lines products and development of agency relationships. Dituri joined the company in 1998 as a commercial underwriter. She also serves as co-chair of the education committee and historian for the Insurance Women of Fresno.
Twelve-year-old Kansas City, Mo.-based wholesaler Westrope announced the addition of Scott Toland as a casualty broker in its Irvine, Calif., office. Toland comes to Westrope from the AIG Cos., where he provided underwriting services for its San Francisco and Los Angeles offices. The Westrope Irvine office was opened in November 2003 and is led by the team of: John MacDonald, formerly of Royal & Sun Alliance; Ted Clayton, formerly of Chubb; and Alvin Kim, formerly of Dodge, Warren & Peters.
The board of directors of the Santa Cruz, Calif.-based Alliance of Nonprofits for Insurance, Risk Retention Group recently appointed Alison Coolbrith Lastra, currently a principal at A&B Enterprises in Bloomfield, Conn., to the ANI-RRG board of directors and to the investment committee of the board. Her experience includes 30 years with Aetna Life & Casualty in various senior management positions including senior vice president of small/select accounts; CEO and managing director of Aetna Reinsurance, London; and vice president and CEO of the Aetna Life & Casualty Foundation.
The board also recently appointed Norris W. Clark, currently with Lord, Bissell & Brook LLP to the Nonprofits' Insurance Alliance of California board of directors and to the audit committee of the board. His experience includes 31 years with the California Department of Insurance. From 1991 to 2004, he was deputy commissioner of the Financial Surveillance branch. Clark joined the CDI in 1973 as a field examiner and worked in the field until 1979. He served as chief of the Tax Return Audit Bureau in 1979-1980, and as a senior examiner of the Chief Financial Analysis Bureau in 1980-1981. He then served as chief of the Financial Analysis Division from 1982 until his appointment to deputy commissioner in 1991.
Was this article valuable?
Here are more articles you may enjoy.
From This Issue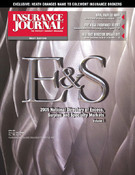 2005 Excess, Surplus and Specialty Markets Directory, Vol. I