Steve Anderson
Steven Anderson will lead the Executive Liability Practice team in the New York office of Beecher Carlson Holdings Inc., with other former Marsh employees Jack Flug, John Kerns, Jeff Lattmann and Hank Whiting. They join another former Marsh colleague, Jane Hamilton, to expand the company's management liability products. The team will create and develop advisory and transactional services to prevent, mitigate and finance directors and officers' liability and related governance risks. They also specialize in fiduciary liability, employment practices liability and crime-related coverage.

Jack Flug
Anderson is a highly experienced attorney with experience negotiating difficult claim situations and placement strategies.

John Kerns
Flug is also an attorney with extensive claims experience. He will provide product innovation, claims advocacy support and quality assurance.

Jeff Lattman
Kerns will direct the development of risk modeling tools to enable clients to make more informed decisions about financing directors and officers risk.

Hank Whiting
Lattmann will support clients in developing unique strategies to differentiate themselves with insurance underwriters.
Whiting will focus on client development, marketing and placement strategies.
This group led Marsh's U.S. specialized liability coverage operations. Their client base comprised more than 50 percent of Fortune 100 and more than 25 percent of Fortune 1000 companies. They worked in a variety of industries: energy, financial institutions, pharmaceutical, retail, technology and telecommunications.
Each team member has resolved complex coverage matters in situations in which financial restatements and corporate governance concerns caused insurance underwriters to consider rescinding or denying coverage for significant claims.
The board of directors of Brown & Brown Inc. of Daytona Beach and Tampa, Fla., elected Thomas E. Riley regional president, responsible for operations in the Northeastern U.S., as well as certain South Florida offices. Robert F. Iocco was elected regional executive vice president with responsibility for certain operations in New Jersey, New York and Pennsylvania.
Riley joined Brown & Brown in 1990 as CFO. He held several positions with the company and in 2001 became regional executive vice president. As regional president, Riley will continue to be responsible for regional operations and will expand his role to further grow the company's operations.
Iocco joined Brown & Brown in 1992, after three years as an independent auditor with Ernst & Young LLP. Prior to 1997 he served in several capacities and was profit center manager for its national Physicians Protector Plan insurance program. In 2000, Iocco became divisional executive vice president at the Bethlehem, Pa., office, one of the company's largest operations.
Senior staff to lead QualSure Insurance Corporation and Sunshine State Insurance Co., Ponte Vedra Beach, Fla., were announced after the Dec. 31 merger of the two companies. SSIC announced the following appointments: Bruce K. Howson, president and CEO; Richard L. Ervin, Jr., vice president and chief financial officer, treasurer and secretary; Michael R. Cratem, vice president underwriting; Katherine A. Moore, director of operations QualSure Underwriting Agency; John E. Rogan, vice president marketing and commercial underwriting; Jeffrey A. Vanderpool, vice president claims; Michael H. Norman, vice president corporate services and president of Old Bridge Insurance Co.; and James P. Brown, director of governmental relations.
Marvin J. Cashion has been named chief legal officer of Florida-based SunCoast Holdings Inc., the corporate parent for the company's insurance operating subsidiaries, Brandywine Insurance Holding Company Inc. and Guarantee Insurance Co., both of Fort Mill, S.C. Other members of the Guarantee Insurance Company team are Lucia Tompkins, president, Lisa Barrett, executive vice president and chief administrative officer, and John Weitzel, interim chief financial officer.
Cashion has more than 30 years experience as an insurance and reinsurance industry attorney. He was previously in private practice as an insurance and reinsurance arbitrator/mediator, expert witness and consultant. His experience in descending chronological order includes: CNA Insurance Group vice president and deputy general counsel; Group; Crum & Forster Insurance Co. managing director, general counsel and secretary; General Reinsurance Corp. vice president and assistant general counsel; General Electric Capital Corp. counsel-insurance; and former Frank B. Hall Co., now Aon Corp., assistant counsel.
In 1988, Cashion authored "The Insurance Exemption: Litigating Private Antitrust Actions," published by Shepard's/McGraw Hill. He has lectured before many organizations on insurance and reinsurance law and practice. Cashion is a member of the American, New York and Connecticut Bar Associations.
Guarantee, a regional workers' compensation carrier, specializes in traditional and alternative market opportunities, It has branch offices in Orlando, Fla.; St. Louis, Mo.; and Fort Mill, S.C.
Mady Nazario has been promoted from underwriter to office administrator of American Hobbyist Insurance Inc.'s national office in Stuart, Fla. The office provides underwriting and customer service to customers and insurance agents throughout the United States.
Nazario joined American Hobbyist in 2002 as an underwriter. As office administrator she oversaw underwriting of new risks and existing accounts, reviewed applications and managed customer service.
American Hobbyist insures "modern classics" (collector cars under 25 years old). Its policies are underwritten by American Reliable Insurance Co., which entered the specialty insurance market in 2000. It now has policies available in 44 states.
Was this article valuable?
Here are more articles you may enjoy.
From This Issue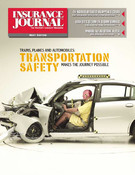 Transportation