Rodolfo Revuelta
Rodolfo Revuelta was elected senior vice president and chief investment officer of New Orleans-based Pan-American Life Insurance Company. In addition, Luis Inglés Jr., senior vice president for Investments, treasurer and Board member for the company's major domestic and foreign subsidiaries, announced he would retire effective June 30, 2005.

Luis Ingles Jr.
Inglés, who has served as chief investment officer since 1992, joined Pan-American as a Securities Analyst and has served the company for more than 37 years.

Curtis W. Page
Effective July 1, Rodolfo Revuelta will succeed Inglés as senior VP and CIO. Revuelta is currently vice president, Securities, and is responsible for the corporate and mortgage-backed securities portfolios of Pan-American's U.S. and Latin American branches and affiliates.

Campbell Letch
Revuelta began his career at Pan-American Life in 1976 as a Latin American securities analyst. After a series of promotions and expanded responsibilities he was promoted to vice president in 1993.

Susan Ricco
Peggy B. Scott, who currently serves as Pan-American Life executive vice president and chief financial officer, will take on an expanded role and assume responsibility for the company's financial and investment functions in July 2005.
Pan-American Life also appointed G. Patrick McGunagle executive vice president effective Feb. 1, 2005. As a new member of the executive team, McGunagle assumes responsibility for all activities related to administration, information technology and corporate services. He will also acquire full responsibility for the worksite benefits division and Pan-American Life's broker-dealer subsidiary, Pan-American Financial Advisers.
McGunagle brings more than 28 years of experience to the insurance industry, where he has held positions in the areas of strategic planning, financial management, project management, and re-engineering initiatives. He has helped ensure the effective execution of e-Business, service delivery and customer service activities, as well as the coordination of technology support.
Higginbotham & Associates, based in Fort Worth, named seasoned property and casualty insurance broker Curtis W. Page as a vice president in its Austin office. Page joins managing directors Gregory Meserole and Matt Burns, who opened Higginbotham's Austin location in June 2004.
With 24 years experience in both commercial and personal insurance, Page is well versed in all facets of the industry, but his particular area of specialty lies in risk management for health care, social service and not-for-profit organizations. He was most recently a principal at Nieman Hanks Puryear, a division of Frost Insurance Agency Inc.
A state of Texas licensed risk manager and instructor for the Independent Insurance Agents of Texas' Producer Training Program, Page is the first in a series of planned additions to Higginbotham's Austin practice, which includes property and casualty, employee benefits and financial services capabilities.
An Austin native, Page has been a Certified Insurance Counselor (CIC) since 1985 and a Certified Risk Manager (CRM) since 2001.
The Dallas office of Palmer & Cay Inc. recently promoted three associates in its Property/Casualty practice.
Campbell Letch was promoted to vice president, specializing in Property/Casualty and Health and Welfare business development. He joined the firm in 2000 and has over 10 years of experience in the insurance and consulting field. His experience includes the full spectrum of employee benefits, cost analysis, contribution strategies, funding alternatives and integrated cafeteria plans. Letch has experience in property casualty insurance and alternative risk structuring.
Susan Ricco was promoted to vice president. Ricco joined the firm in June of 2003 as a risk management client executive with 23 years experience in Property/Casualty client management and underwriting. In June 2004 she made the transition to casualty broker and began working with the Sales and Marketing team in Dallas.
Jane Damon was promoted to assistant vice president. She joined the Dallas office in 2002 as a senior account manager. Damon is responsible for the management and service of middle market and risk management commercial accounts. She carries the CPCU, CPIW and CIC designations.
Palmer & Cay of Texas LLC provides benefits, compensation, investment and retirement consulting services for clients throughout the United States. Its parent company, Palmer & Cay Inc., is based in Savannah, Ga. The company has 37 offices in 22 states and the District of Columbia.
Mike Baker is the new director of the Arkansas Workers' Compensation Commission's Self-Insurance Division (SID). He replaces Alan McClain, who is now the AWCC chief executive officer.
Baker was appointed director of SID in January. Before joining the AWCC, he was the workers' compensation operations director of Arkansas for Reciprocal of America. Previously, he was vice president of Claims Management Services for Sedgwick of Arkansas, where he was employed for 14 years. Earlier, he worked for various companies in safety and personnel management.
Willis Re, the reinsurance unit of Willis Group Holdings, appointed Peter C. Hearn to the position of CEO of Willis Re US.
Hearn assumes the position previously held by George Reeth. Reeth is now president of Willis North America.
Hearn has been president of Willis Re US since 2002. He will report to Grahame Millwater, chairman and chief executive of Willis Re globally. Hearn joined Willis as a senior vice president in January 1994 to establish and manage the Philadelphia office. He was appointed eastern region manager in October 1994, and executive vice president in 1997. In 1999 Hearn was appointed one of three global/national production leaders, and in 2000 was assigned overall responsibility for directing new business production efforts for global, national and regional property/casualty business.
Was this article valuable?
Here are more articles you may enjoy.
From This Issue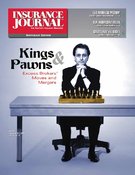 Wholesale Industry M&A Trends