Gregory Case
Chicago-based brokerage giant Aon Corp. elected Gregory Case its new president and CEO and has added him to its board of directors. Case succeeds Patrick Ryan, who has served as Aon's CEO since the company's founding. Ryan will serve as executive chairman of the Aon board of directors. Case most recently served as head of the financial services practice at McKinsey & Co., the international strategic management-consulting firm.

Neil Alldredge
Aon announced that Case will receive the following compensation: restricted stock units in the amount of 125,000 shares, which will vest in four installments of 12,500 shares on each of the first through fourth anniversaries of the date of grant and in a final installment of 75,000 shares on the fifth anniversary of the date of grant; and a grant of options to purchase 1 million shares of common stock of Aon, which will vest in three equal installments on each of the second through fourth anniversaries of the date of grant.

Brian Hall
The National Association of Mutual Insurance Cos. announced that Neil Alldredge has been named senior director of state advocacy. In his new capacity, Alldredge will be responsible for development and execution of all advocacy strategies before state legislatures and various national groups of legislators and commissioners.

Steven Bogart
He will supervise NAMIC's state affairs managers who cover all 50 states. NAMIC cited Sarbanes-Oxley and credit-based insurance scoring as a couple of the emerging issues toward which Alldredge would devote his attention.

Paul Gerard
Toledo, Ohio-based agency Hylant Groupannounced the promotion of Brian K. Hall to president of Hylant Specialty Programs/National Insurance Specialists. Hall is responsible for the division's overall operations. Hylant Specialty Programs operates under the trade name National Insurance Specialists and specializes in insurance products for the equipment rental industry.
Bogey's latest starring role: vice president. Hylant also promoted Steven S. Bogart to vice president of its health-care professional business. Bogart is responsible for business development comprising direct sales and management of client services for Hylant's healthcare business practice. The firm also has offices in Ann Arbor and Troy, Mich.; Columbus, Cincinnati and Cleveland, Ohio; as well as Indianapolis, Bloomington and Ft. Wayne, Ind.
The Ohio Casualty Insurance Co.announced that Paul Gerard has been named senior vice president of investments, effective March 21. Gerard, 45, comes to Ohio Casualty from GE Asset Management and Genworth Financial, where he has served in several portfolio management roles since 2001. Prior to that time, he held several positions, including senior investment officer, with Principal Capital Management and several positions with FleetBoston Financial.
Dallas-based wholesaler Heartland Marketing Group announced the hiring of Brian Simpson as the regional sales manager in Lee's Summit, Mo. He will be responsible for Kansas, Missouri, Oklahoma and Arkansas. HMG specializes in providing rural agents in the four-state region access to multiple standard personal, commercial, farm and ranch and high-value personal property insurance carriers.
Lockton Cos., an independently owned insurance broker, has appointed Kerry Martin vice president of commercial insurance division. Martin will focus on client development and will be based in Chicago. During Martin's 16-year career, he has held many client service and management positions including account executive, team leader, and Financial Products practice leader. Most recently, Martin was the head of office for the Columbus, Ohio, office of a national insurance brokerage firm. Lockton is based in Kansas City and employs more than 1,600 associates in 16 offices throughout the United States.
The Naperville, Ill.-based Independent Mitigation and Cleaning/Conservation Networkannounced that Bill Schroeder has been appointed to fill the vacant position of vice president of business development and will also serve as vice president of national markets for IMACC.
Previously, Schroeder served as vice president of claims and the Midwest region at the Alliance of American Insurers. He has previously also served as a training director for a large unit of local government, legislative chief of staff, and executive assistant to the Illinois State Treasurer. Schroeder will join Pat Harmon and Kirk Hansen to form the three-member marketing team for IMACC.
The Des Plaines, Ill.-based Property Casualty Insurers Association of America announced two staff additions recently.
William Fritts was appointed executive vice president, responsible for oversight and coordination of PCI's federal and state political advocacy and public affairs efforts. Fritts has more than three decades of legislative, corporate and consulting experience.
Prior to joining PCI he was a senior managing partner of Intersect Strategies Group, a government and business consultant organization based in St. Paul, Minn. Fritts has also held executive positions with ReliaStar Financial Corporation and ING, served as Minnesota chief of staff of U.S. Sen. Dave Durenberger, assistant secretary for legislative and inter-government affairs at the U.S. Department of Commerce and a senior advisor to the Secretary of Health and Human Services. He was also the political affairs director for the Health Insurance Association of America.
Tom Litjen joined PCI's Washington, D.C., office as director of federal government affairs. Litjen has more than 20 years of legislative and political experience and most recently served as counsel for U.S. Sen. Ben Nelson (D-Neb.).
Was this article valuable?
Here are more articles you may enjoy.
From This Issue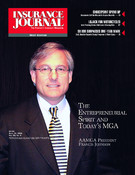 AAMGA Issue