Mike Miller
OneBeacon Insurance Group, a wholly owned subsidiary of White Mountains Insurance Group Ltd., announced that Mike Miller, its current chief operating officer, has been appointed president and chief executive officer. Miller replaced John Cavoores, who left the company for personal reasons.

Michael Christiansen
Miller came to OneBeacon last April with over 24 years of insurance experience, having been recruited by the man he is replacing. He spent his first 14 years at Chubb Specialty and the last 10 years at St. Paul where he ran the specialty businesses. Most recently he was co-chief operating officer at St. Paul Travelers. He joined OneBeacon in April as chief operating officer.

Gary Gregg
OneBeacon Insurance Group is wholly owned by White Mountains Insurance Group Ltd. of Hamilton, Bermuda.

William P. Clifford
The Citizens and Hanover Insurance Companies have named Michael R. Christiansen as president of its New England region. In this role, Christiansen will be responsible for the company's personal and commercial lines activities throughout New England, with the exception of the Massachusetts personal lines operation.

Ralph S. Michael
Christiansen formerly was a senior executive with Liberty Mutual's independent agent and broker distribution channel and president and chief executive officer of Peerless Insurance Company. He began his career as a commercial property underwriter with Kemper in 1975.
Liberty Mutual Group, headquartered in Boston, Mass., announced that Roger Jean, president of its regional agency markets operations and an executive vice president with the company, will retire in early 2006.
In anticipation of Jean's departure and to more effectively serve third party distributors, the company has created a new strategic business unit. Gary Gregg, will move from executive vice president and manager of commercial markets to president of the newly formed Liberty Mutual Agency Markets business unit, which will include Wausau Insurance, Liberty Mutual Surety and Regional Agency Markets. Regional companies that are part of RAM are America First Insurance, Colorado Casualty, Golden Eagle Insurance, Hawkeye-Security Insurance, Indiana Insurance, Liberty Northwest, Montgomery Insurance, Peerless Insurance and Summit Holding Southeast Inc.
Gregg has held a number of executive positions within Liberty Mutual's commercial insurance operations since joining the company in 1989 from KPMG, the international accounting firm, where he was a partner
William P. Clifford has been named president of the Northern New England region of TD Banknorth Insurance Group in South Portland, Maine. He will manage operations and offices throughout Maine, New Hampshire and Vermont.
Clifford has more than 20 years experience in the insurance industry, working in the areas of sales and management, managed healthcare, employee benefits, property and casualty insurance brokerage management. He most recently served as a sales manager at JPMorgan Chase Bank in New York.
TD Banknorth Insurance Group is a subsidiary of TD Banknorth Group in Portland, Maine.
The Ohio Casualty Insurance Co. announced that Ralph S. Michael III has been named president and chief operating officer of the company.
Michael comes to the Fairfield, Ohio-based company from U.S. Bank, National Association, where he was executive vice president and manager of private asset management. In addition to his most recent position with U.S. Bank, Michael also served with that organization as executive vice president and manager of West Commercial Banking and as president of U.S. Bank – Oregon. From 1979 to 2002, he held numerous executive and management positions with PNC Financial Services Group, based in Pittsburgh.
New York State Insurance Superintendent Howard Mills has named Joseph Risi as deputy superintendent of insurance. Mills said Risi will coordinate various department management initiatives and work directly with him.
Risi is the Founder of Risi & Associates, a Long Island City law firm that specializes in commercial litigation, trusts and estates, real property, and personal injury. He has also been a licensed insurance broker for over 20 years and was counsel to New York State Sen. George Onorato (D-Astoria), the ranking minority member on the insurance committee.
Integro Ltd. announced five executive appointments, including industry veterans Frank Gundersen and Marc Kunney to head the company's New York and San Francisco offices, respectively.
New York-based Integro, launched in May 2005, has offices in San Francisco, Chicago, Toronto and Bermuda, and will be opening offices in London and other U.S. cities.
Gundersen, managing director, will head the New York office. Prior to joining Integro, Gundersen served as chairman of Marsh's Global Property. Gundersen's expertise encompasses property insurance, captive design/management and international account servicing responsibilities.
Kunney, managing director, has been named head of the San Francisco office. Previously, Kunney served as Marsh's managing director of risk and insurance services and headed the company's San Francisco office.
Jeffrey B. Wingate, managing director, has been named the head of client development for Integro's New York office. Previously, he served as sales leader for the New York metro region of Marsh. Wingate's insurance expertise spans the areas of financial services, technology/telecommunications, real estate and retail.
Alexandra E. Littlejohn has been named head of worldwide casualty for the firm. She has expertise in casualty placements, especially in the real estate, technology and construction industries. Most recently, she served as managing director for primary casualty placement at Marsh.
Bruce L. Scollin, managing director, will be responsible for sales and client management for Integro's San Francisco office. Prior to joining Integro, he served as managing director, global development for Marsh in San Francisco.
Integro Ltd. also announced that Craig S. Lowenthal has joined the company as managing director and chief information officer. Based in the company's New York headquarters, Lowenthal will be responsible for the applications, infrastructure, telecommunications and technology. Lowenthal most recently served as vice president and chief information officer for Hartford Financial Products.
New Day Underwriting Managers LLC, an environmental and construction-related professional liability firm, appointed Maureen Efthyvoulou to its customer service team. Previously, she held the position of assistant vice president, account manager and relationship specialist for Aon Risk Services Inc. in Philadelphia.

The Insurance Marketing Communi-cations Association recently awarded Donald Hurzeler its Golden Torch Award in recognition of his lifelong contributions to the insurance industry.
Hurzeler, chief marketing officer for Zurich's Commercial Business Group in Schaumburg, Ill., currently serves as president of the CPCU Society. Last October, the Society published his book, "Designated for Success," in which Hurzeler offers career advice gleaned from his more than 30 years of experience in the insurance industry.
During his career, Hurzeler has also served as CEO of a middle-market commercial lines company, president of an insurance brokerage, president of a company charitable foundation, and chief underwriting officer, as well as a director of numerous company boards.
Willis Group Holdings announced that Paul Primavera has joined Willis' Hunt Valley, Maryland operations as senior vice president of claims management in its construction practice.
Prior to joining Willis, Primavera was vice president of construction claims for St. Paul Travelers. He has more than 17 years of claims experience in a variety of roles including claims adjustment, supervisory and management.
Lauri Neubauer has been hired as a commercial account specialist at Bowers Insurance Inc. of Hagerstown, Md. Neubauer has been in the insurance business for 27 years. Founded in 1977, Bowers Insurance Inc. is licensed in the states of Maryland, Pennsylvania, West Virginia and Virginia.
Was this article valuable?
Here are more articles you may enjoy.
From This Issue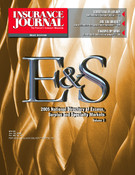 2005 Excess, Surplus and Specialty Markets Directory, Vol. I