Bob Maeyama
Ronald L. Alexander has been named president and managing partner of Willis Group Holdings Ltd.'s Tennessee operations in Knoxville, Tenn. Alexander was formerly executive vice president and chief operating officer of Willis's Tennessee operations.

Polly Middlebrook
Alexander will be in charge of growing Willis' operations in the area, including identifying potential acquisitions, recruiting talented individuals and teams, and assisting producers with organic growth tools. He will also continue to provide risk management services and solutions to a broad spectrum of corporate and institutional clients.

Becky Tompson
Alexander has been with Willis 26 years, beginning in 1979 when he became an account executive with Corroon & Black of Knoxville. He was named vice president and marketing manager in 1986, eventually becoming executive vice president and COO in 1993. Corroon & Black was acquired by Willis in 1990.

Katy Campbell
Alexander serves on the board of directors for Workforce Connections and Senior Citizens Home Assistance Services. He is past president of the Insurers of Knoxville and has served as a board member of the Knoxville Chapter of American Diabetes Association, as well as the Knoxville Area Chamber Partnership Economic Development Board. Alexander is a graduate of the Leadership Knoxville class of 2004–a 10- month leadership program committed to the goal of serving as catalyst for positive change in the greater Knoxville area.

Rick Espino
Willis Group Holdings a global insurance broker, develops and delivers professional insurance, reinsurance, risk management, financial and human resource consulting and actuarial services to corporations, public entities and institutions. It has more than 300 offices in over 100 countries, its global team of 15,800 associates serves clients in 180 countries.
Gregg Bundschuh and Dave Collings will establish an Atlanta office for Ames & Gough, a Washington, D.C.-based insurance broker and risk management consultant. Bundschuh and Collings are former Marsh USA senior executives, they will be equity partners of Ames & Gough.
Ames & Gough serves architects, engineers, lawyers and the managed care industry. It has established itself as a resource for design professionals and contractors in need of professional liability insurance.
In recent years Ames & Gough has expanded into lawyers' professional liability and managed care, as well as developing a property and casualty insurance capability to complement its' professional liability offerings.
Bundschuh was formerly head of Global Construction and Environmental Practices for Marsh Inc.; a Marsh Inc. managing director and Johnson & Higgins executive. Previously, Gregg was general counsel for a national engineering/architectural firm and practiced construction law for an Atlanta law firm.
Collings was a Marsh managing director and Marsh's North American marketing director from 2001 through 2004. Previously, he headed the firm's Design Firm and Design-Build Practice and was an original member of Johnson & Higgins' Construction Group. He started his career in 1981 and has worked in London, Atlanta and Philadelphia.
P. George Benson, dean of the University of Georgia's C. Herman and Mary Virignia Terry College of Business has joined the Crawford & Company Board of Directors in Atlanta.
Since 1998, Benson has served as dean of UGA's Terry College of Business. The Terry College of Business, which includes one of the largest risk management programs in the country, has con-sistently been ranked among the top 20 public MBA programs in the U.S.
Prior to joining the University of Georgia, Benson was the dean of the Rutgers Business School at Rutgers University in New Jersey for five years. From 1977 to 1993, Benson was on the faculty at the Carlson School of Management at the University of Minnesota.
In 1997, Benson was appointed by the U.S. Secretary of Commerce to a three-year term as one of nine national judges for the Malcolm Baldrige National Quality Award. In 2004, he was appointed to a three-year term on the board of Overseers for the Baldrige Award; and this year, he was named chairman of the Board of Overseers. In 2002, Benson was named a Fellow of the Decision Sciences Institute, the institute's highest honor.
Benson led the establishment of two new research centers at UGA: the Institute for Leadership Advancement and the Center for Information Systems Leadership.
Bill Gunter has been elected to the board of directors of the Florida Association of Insurance Agents in Tallahassee, Fla.
Gunter is chairman and chief executive officer of Rogers, Gunter, Vaughn Insurance Inc., a Tallahassee-based independent insurance agency. The agency, Tallahassee's largest and oldest family-owned insurance organization, has more than 60 employees and 13,000 clients.
A nationally distinguished industry leader, Gunter has also served a Florida Insurance Commissioner, Treasurer and Fire Marshal; and as a member of the Florida Senate and the U.S. Congress.
Gunter is active in the insurance industry on both a state and national level. He is completing a two-year term as chairman of FAIA's Legislative Council; and is now president of FAIA PAC, the agents' principle state-wide advocacy committee before the Legislature and the U.S. Congress. He is also an active member of the National Government Affairs Committee of the Independent Insurance Agents and Brokers of America headquartered in Washington, D.C.
Alison TeStrake has been named to the business development staff of McAuley, Woods and Assoc. in West Palm Beach, Fla.
TeStrake has extensive experience as a casualty lines broker in the northeast United States. Her background includes experience as a New York based broker for Risk Placement Services, where she was responsible for brokering casualty business. She was also in brokerage operations for CRC Insurance Services and American Marketing Center.
McAuley, Woods & Associates is a large independent wholesaler with annual premiums exceeding $150 million. It has alliances with more than 100 premier insurance carriers worldwide.
Julie M. Sagil has been promoted by Tampa, Fla.-based CHOICE Medical Management Services LLC to director of provider management and bill re-view operations. Sagil was previously dir-ector of network operations. Her duties have been expanded to also include CHOICE's Medical Bill Review and Customer Service units.
Sagil joined CHOICE in 2002 after working as a regulatory reporting analyst and national grievance coordinator for Concentra/MetraComp Inc.
CHOICE is a workers' compensation care management organization and a certified Florida Workers Compensation Managed Care Arrangement serving insurance carriers, third-party administrators, governmental entities, and other self-insured employers in 30 states.
Jeremy Odom has joined the Felten & Assoc.staff in Vero Beach, Fla. as a financial representative.
Odom was previously employed by Northwestern Mutual in Orlando, Fla.
Felten and Associates is a 52-year-old company offering employee benefits, personal and commercial insurance solutions, and personal and commercial financial planning and investments. Felten & Associates is headquartered in Vero Beach.
George Tarsitano, United Automobile Insurance Group vice president, will head a new office in Tampa, Fla. UAIG is appointing 40 independent agents from Hillsborough and Pinellas counties to service the area.
According to Jack Ramirez, president and COO, UAIG, a privately held property and casualty insurance company based in North Miami Beach, does about $400 million in business annually. It writes policies in Florida and six other states, Illinois, Oklahoma, Georgia, Mississippi, Utah and Texas. The company also is licensed to do business in South Carolina and Louisiana and is applying for certificates in six other states.
In Florida, UAIG specializes in providing personal injury protection, which is basic limit automobile insurance coverage required by the state. The company also offers a range of other property and casualty insurance products.
Coleen Murphyhas joined Beecher Carlson's National Healthcare Practice in Nashville, Tenn. as senior client services manager.
Murphy's career spans 27 years between the fields of health care and insurance. She joins Beecher Carlson from Willis of Tennessee where she was responsible for marketing and servicing a variety of healthcare groups including surgical centers, dialysis clinics and physician management organizations. Her experience crosses several lines of business, including professional and executive risks, property and workers' compensation.
Beecher Carlson is an Atlanta-based insurance and risk management company. Its National Healthcare Practice focuses exclusively on the health care provider and payer industry, working with clients throughout the United States to protect and enhance their capital through the mitigation of risk and provision of innovative client-centric services.
Was this article valuable?
Here are more articles you may enjoy.
From This Issue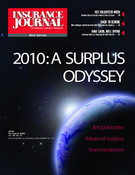 Surplus Odyssey