Grange Mutual Casualty Co. announced that Randy Montelone will retire at year end after 29 years of service with the company.
Tom Welch, current president of Grange Life Insurance Co., a Grange subsidiary, assumes the role of chief financial officer effective July 1. The two will serve concurrently as CFO through December. Welch will continue to lead the Life Company until his replacement is named.
Welch joined Grange as president of Grange Life in 2001, bringing more than 33 years of experience in financial management and the insurance industry. Before joining Grange, he held the position of CFO with Central Benefits Mutual Insurance Co. and handled investor relations, investments and strategic planning for Farmers Group.
Montelone started at Grange in 1979 as internal auditor and also held the title of treasurer before becoming CFO nine years ago. Montelone was appointed to the Grange board of directors in 1999.
Grange Mutual Casualty Company also promoted J. Paul McCaffrey, Jr. to vice president, chief risk officer, a newly-created position at the company. Previously, McCaffrey served as vice president, finance, a position he has held at Grange since November 2006.
In his new role, McCaffrey will be responsible for the company's enterprise risk management strategy and overseeing the company's financial risk operations.
Before joining Grange, McCaffrey served as senior manager at Ernst & Young primarily working with clients in the property casualty, accident and health, medical malpractice and life insurance areas. McCaffrey has also held various other financial management positions, including controller and internal auditor.
Wells Fargo Insurance Services added staff in its Fargo, N.D. office. Deb Galt was named Insurance Brokerage supervisor for Wells Fargo Insurance Services' Midwest region, and Gail Hayes was named as new Commercial Account representative.
Galt will be responsible for training and supervising the customer service teams in North and South Dakota and western Minnesota. She will provide education and training support, as well as develop strategic initiatives to establish and maintain best practices to ensure that all offices in the region are providing the same products and quality of service to their customers.
Hayes will work closely with Wells Fargo Insurance Services account executives and is responsible for day-to-day administrative and operations support to an assigned group of commercial property and casualty customers.
Wells Fargo also named Holly Shopoff as vice president of Motorsports Race Team Programs. She will be based in the Houston office.
In her new role, Shopoff manages the Race Team Program, which provides insurance products and services on a nationwide basis to race teams, the sponsors of race teams and racing events.
Shopoff joins Wells Fargo Insurance Services with more than 19 years of property and casualty insurance experience specializing in sports, leisure and entertainment risks. Additionally, she has focused on underwriting, marketing, and serving racing teams, sponsors and drivers.
Chicago-based Aon Corp. appointed Gregory J. Besio, currently serving as executive vice president, Global Strategy, to the additional role of chief administrative officer. In this role, he manages governance, human resources, and mergers and acquisitions, in addition to corporate strategy.
Besio joined Aon in 2007 as senior vice president, Global Strategy. Previously, he worked for Motorola where from 2003 to 2007 he held a series of positions of increasing responsibility, including leading corporate strategy. Most recently, he was corporate vice president, Mobile Devices Software, where he led a 4,500 person global development group that launched a new software platform for cellular phones.
Aon Corp. also appointed independent agent Peter Breitstone as president and chief executive officer of its marketing affiliate to independent agents, Agency Specialty Product Network Insurance Services Inc.
Jerry Tegan, who has served as president and chief executive officer for eight years, will now serve as ASPN chairman.
Breitstone brings 25 years of experience as an independent agent. Breitstone, who is an attorney, joined Aon in 2006 when it purchased his environmental risk and insurance brokerage business.
ASPN operates as a marketing arm for provider companies, including insurance carriers, wholesalers, managing general underwriting and specialty operations. Through ASPN, agents can access to specialized insurance products, programs and services.
The International Captive Practice of Willis Group Holdings appointed Dominic Wheatley as chief marketing officer and Martin Best as compliance officer and chief operations officer.
Wheatley joined Willis in 1995 and became managing director of the Guernsey operation in 2003 with overall responsibility for the management of the office and the servicing of its clients. He also had direct responsibility for the consulting business and was a member of the executive board of the International Captive Practice. He currently serves as deputy chairman of the Guernsey Insurance Company Management Association.
Chicago-based Hub International Ltd. annouced that Tom Hartley has joined Hub International Arizona as president.
Richard Milne, the former HUB Arizona president, has been named chairman of HUB Arizona and will be responsible for strategic merger and acquisition activity as well as managing key client and partner relationships. Both Milne and Hartley will report to Roy Taylor, president of Hub International's West Region.
Based in Phoenix, Hub International Arizona has 85 employees at offices in Phoenix and Prescott Valley.
To submit information for People, e-mail smckenna@insurancejournal.com.
From This Issue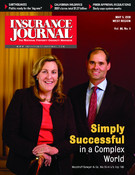 Salute to Managing General Agents/AAMGA Issue; Agency Technology; Premium Finance Directory