Charlotte, N.C.-based national wholesale insurance broker AmWINS Group, Inc. announced that James Drinkwater has been named president of its AmWINS Brokerage division. In this role, Drinkwater will be responsible for the day-to-day management of the division, which is focused on property and casualty insurance brokerage operations.
Prior to being promoted to this role, Drinkwater served as the division's chief operating officer, where he worked with the company's retail agency clients and insurance markets and led the division's sales and marketing strategy.
Drinkwater succeeds Mark Smith who has served as president of the division since April 2005. Smith will continue to work with the company in a consulting capacity.
Swett & Crawford named Michael S. "Steve" Sadler as chief operating officer and executive vice president of sales.
The majority of Sadler's career was spent at Marsh & McLennan, where in his 29-year tenure he held a series of top-level, national management and sales positions. These included managing director; Global Construction Practice Group leader and managing director and chairman, Marsh Industry Practices. Since 2006 Sadler has been president of Denver, Colo.-based 2-10 Home Buyer's Warranty's Builder Group, a new home warranty, extended warranty and insurance products provider.
Lloyd's announced the appointment of LoriAnn Lowery as its new president for North America.
Lowery, who will be based in New York, will be responsible for all business operations across the U.S. and Canada including business development and distribution, communications and marketing. She reports to Sue Langley, director for Market Operations and North America.
Lloyd's new North American president, who takes over from Wendy Baker, has over 20 years experience in the insurance industry. She most recently served as managing director and national practice leader for risk management and financial products for Wells Fargo Insurance Services. She has previously held positions at Marsh & McLennan, Sedgwick and Intercontinental Brokerage.
Stephanie Dew has been promoted to vice president of marketing for Rural Special Districts Insurance Services. She will manage countrywide sales and marketing activities for RSDIS, working closely with the Public Risk Insurance Made Easy program to expand marketing and inter-program relationships.
Dew has served as marketing director for the past three years. Prior to that appointment, she served as account manager at Willis of Arizona Inc. and as a public entity underwriter with KEMPES.
RSDIS is a division of York, Pennsylvania-based Glatfelter Insurance Group, one of the largest insurance programs in the United States for entities that treat, distribute or store water.
Maxum Specialty Insurance Group, based in Duluth, Ga., appointed F. Marshall Turner II, as the president and chief executive officer of Maxum Indemnity Co. and Maxum Casualty Insurance Co.
Turner will serve as a director of both insurance companies as well as their parent, Northern Homelands Company. He will assume overall responsibility for the management of the Maxum Specialty Insurance Group, and report to the board of directors.
Turner replaces Gene G. Gopon who has served as the company's interim CEO for the past six months after the sudden death of Joseph (Jay) Lughes.
Turner has more than 28 years of insurance industry experience. He has served as president of AXIS Insurance, a global provider of coverage for property, marine, terrorism, aviation, political risk, professional lines, liability and accident and health.
National wholesale insurance broker AmWINS Group Inc. reported that Donna Hargrove has been hired as general counsel. Prior to joining AmWINS, Hargrove served as lead corporate in-house counsel for BB&T Insurance Services, Inc. Earlier in her career, she served in private practice with a large regional firm concentrating in mergers and acquisitions and general corporate matters.
Liberty International Underwriters, a part of Liberty Mutual Group, reported that Chris Cox recently joined LIU's Atlanta office as vice president for Excess Casualty where she handles up to $25 million in lead umbrellas and $50 million for excess layers. Her experience covers 25 years in the industry including senior positions at Zurich and AIG.
American International Group Inc. has named several executives to positions within its new AIG Commercial Insurance Group, formerly known as the Domestic Brokerage Group. AIG Commercial Insurance is part of the newly created AIG Property Casualty.
Michael W. Smith has been named president of AIG Executive Liability.
Louis P. Iglesias has been named chairman and chief executive officer of AIG Risk Management Group. AIG Risk Management Group will now include AIG Specialty Workers' Compensation.
Russell Johnston has been named president of AIG Risk Management.
Douglas M. Worman has been appointed president of the newly named AIG Excess Casualty Group, combining the existing operations of AIG Excess Casualty and AIG Warranty.
John O'Brien, chief operating officer and executive vice president of AIG Environmental, has been appointed president of AIG Environmental.
Aon Corp. announced that Peter Breitstone, an independent agent, has been appointed president and chief executive officer of its marketing affiliate to independent agents, Agency Specialty Product Network Insurance Services Inc.
Breitstone brings 25 years of experience as an independent agent. He joined Aon in 2006 when it purchased his environmental risk and insurance brokerage business.
Jerry Tegan, who has served as president and chief executive officer for eight years, will now serve as ASPN chairman.
ASPN is a marketing arm for carriers, wholesalers, managing general underwriting and specialty operations.
From This Issue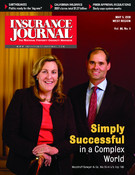 Salute to Managing General Agents/AAMGA Issue; Agency Technology; Premium Finance Directory