Erie Insurance Group named Terrence W. Cavanaugh president and CEO, and an elected member of the firm's board of directors.
Cavanaugh joins Erie from Chubb Corp. where he most recently was senior vice president and chief operating officer for its surety business. The Chicago native had a 33-year career with the Chubb Group of Insurance Cos, beginning his career as a bond underwriter for Chubb Surety in 1975. In 1999, he was appointed chief marketing officer for Chubb.
United America Indemnity Ltd. appointed Scott Reynolds president of United National Group, one of UAI's three U.S. divisions.
Reynolds has more than 20 years of industry experience and most recently was president of the Specialty Underwriting Division of AmWINS Group Inc., where he oversaw program business. From 2002 through 2006, Reynolds served as chief actuary of AmWINS. Prior to that, he was a manager at Royal & Sun Alliance, responsible for all commercial lines pricing, filings and statistical reporting.
Lester B. Knight was elected non-executive chairman of the board of Aon Corp. Knight succeeds Patrick G. Ryan, Aon's executive chairman and founder, who announced his intention to retire.
Knight, an independent director since 1999, is a founding and managing partner of RoundTable Healthcare Partners, a healthcare-focused private equity investment firm. Prior to that, Knight was chairman and CEO of Allegiance Corp.
Marsh & McLennan Cos. Inc. appointed Vanessa A. Wittman executive vice president and chief financial officer.
Wittman most recently served as CFO and executive vice president of Adelphia Communications Corp. Prior to Adelphia, she served as CFO of 360networks, based in Seattle. She also has held positions with Microsoft, Metricom Inc., and Morgan Stanley.
White and Company Insurance Inc. of Santa Monica, Calif., made four staff appointments. Gary Skerik is chief financial officer. Sean Erickson and Jodie Hyams are account executives. And Robert Hawkes is an account executive for group benefits.
Skerik most recently worked for Wells Fargo Insurance Services of California Inc.
Erickson joined the company in 2007 with business experience as the sales director for a major sporting goods retailer, and insurance experience with a large, national direct writing carrier.
Hyams began her career in the insurance industry at age 17, and has remained in the insurance field during the past eight years working from an account assistant up to a producer. She has been active on the IBA San Fernando Valley board for five years and was president of the chapter from 2005-2006.
In addition to knowledge of group medical and dental, disability income and other benefit products, Hawkes has insight into human resources and employee benefits.
Cedar City, Utah-based The Leavitt Group hired David H. Broadbent as executive vice president of retail placement. He will also serve as a senior executive vice president of Leavitt Group Enterprises. In this position, Broadbent will guide the development of central placement and service facilities.
Previously, Broadbent held executive management positions at Marsh & McLennan. He also was senior vice president and chief operating officer for Sedgwick of Washington (prior to its affiliation with Marsh & McLennan).
Encompass Insurance promoted Ellen Goforth to regional sales director in the Northwest. The Encompass Northwest Region oversees Encompass, Allstate and Deerbrook independent agencies in Alaska, Hawaii, Idaho, Oregon and Washington. She takes over for Alan LeClerc, who will continue to lead the company in California.
Goforth is a 35-year veteran of the insurance industry, who most recently was regional sales manager for the Encompass Northwest Region.
Heffernan Insurance Brokers launched a new human resources consulting program and appointed Lisa Banducci leader of the new service offering.
Banducci will work out of Heffernan's Walnut Creek, Calif., office, but the new service package is available statewide.
Additionally, the company appointed Elizabeth Thomas assistant vice president of financial services in its Portland, Ore., office.
Thomas has several years experience in employee benefits in the Portland area, most recently at H-C & Associates/GET Benefits. At Heffernan, Thomas is charged with account management responsibilities and new business development.
M.J. Hall and Co. Inc. named Coleen Mulhern Rupp a marketing representative for its San Francisco office, focused on growing production in the excess and surplus marketplace.
Mulhern Rupp brings more than 25 years of industry experience to her position. She was most recently with a national wholesale firm based in San Francisco.
Pacific Wholesale named Hoppy Stauffer national healthcare director, and Veronica Jimenez associate broker. Both have worked together for more than six years, and will work in the Burbank, Calif., office.
Stauffer began her career managing physician offices for 10 years. She has been in the wholesale healthcare business for eight years and was an associate underwriter with Zurich for four years.
Jimenez began her career in the trucking/ limo arena as an underwriter and retail agent for three years.
Burbank, Calif.-based Frasco Inc. hired Sam King to head its special investigative unit and program management business units.
King comes from MJM Investigations Inc., where he was senior vice president of the 13-state Western region. During the past eight years, he was responsible for establishing MJM's Special Investigation Unit and several other business units nationwide.
Swett & Crawford appointed Rick Spivey marketing manager for Risk Reducers, a workers' compensation unit acquired by Swett & Crawford in January.
Previously, Spivey was a state sales manager with Alfa Vision Insurance.
San Diego-based EMB hired Claudine Modlin as a senior consultant. She brings more than 17 years of experience in the industry to her new role. Most recently, she served as senior consultant at Watson Wyatt. Prior to that, she held actuary roles at American International Group in the personal lines division and at Allstate Insurance.
Suhr Risk Services hired Sheldon Beitzel in the premier client division, which focuses on manuscripting creative risk management solutions to California businesses.
Conover Insurance of Yakima, Wash., hired Alfonso S. Pineda as account executive in the employee benefits division.
Pineda will focus on offering solutions to employee benefit programs in the community where he was raised. He spent 10 years of service as a marine. He began his career with Conover in 2003 and has worked for the company in between his tours of duty abroad.
Scottsdale, Ariz.-based Nautilus Insurance Group, appointed Conni Rader assistant vice president – actuarial.
Rader comes from a local insurance company, where she was manager for the actuarial department. Her background includes positions in both actuarial and accounting.
Los Angeles-based Lloyd S. Berkett Insurance Agency Inc. hired Gary Rubell to head its risk services division. He will oversee all safety and loss prevention services and training. He has 25 years of experience and previously worked at Venbrook Insurance Agency in Woodland Hills, Calif.
From This Issue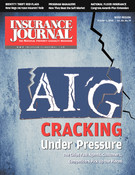 Salute to Program Managers; Cyberisk/Identity Theft; Risk Retention Group Directory