Seacrest Partners Inc., a Savannah, Georgia-based insurance brokerage and employee benefits consulting firm, has named J. Cliff McCurry as vice chairman. McCurry will oversee business development activities for the agency.
McCurry has been involved in the Savannah insurance and business community for 38 years. He most recently served as head of Willis HRH's Savannah operation, which was formed earlier this year when Hilb, Rogal & Hobbs (HRH) was acquired by Willis Group Holdings Ltd. McCurry has worked for the same firm and its predecessors throughout multiple merger situations since 1971.
Harden & Associates in Jacksonville, Florida recently named Jennifer Retamar and Shaun Woleshin as vice presidents.
Retamar is an Employee Benefits account executive in the Jacksonville office and Woleshin is a Commercial Insurance account director in Harden's Fernandina affiliate, John T. Ferreira Insurance.
Prior to joining Harden, Retamar was an assistant vice president and senior consultant with a large national broker.
Woleshin joined John T. Ferreira Insurance in 1999 and since then he has been assisting commercial clients.
Brad Gow joined Zurich North America to head the Specialty Errors & Omissions (E&O) group of its Specialties business unit.
Gow will head a nationwide team focusd on engineering, media, technology, real estate and specified professions. Gow will also be integral to the launch of new products for emerging E&O exposures, such as security and privacy risks.
Gow brings 20 years of insurance industry experience to Zurich. Most recently, he was vice president of Professional Liability product management with ACE Insurance, where he developed a line of technology E&O and network risk products.
Before joining ACE, Gow was co-founder of NetDiligence, a venture capital-backed network security and privacy consulting firm focused on the needs of network risk underwriters. Between 1992 and 2000, Gow held a variety of positions with CIGNA, including international roles in Tokyo and Bangkok. He began his insurance career at AIG in 1989.
Hiscox is now offering inland marine insurance to the U.S. market and has hired Steve Silverman to lead this initiative. Hiscox said it will be underwriting both individual risks inland marine risks and programs.
Silverman, vice president, joined Hiscox from American International Group's Lexington Insurance, where he was most recently assistant vice president and product line manager for Inland Marine and Specialty Property business in the U.S. and Canada. Prior to joining Lexington, Silverman spent most of his career with Aetna Casualty & Surety in a variety of property and inland marine roles.
He is joined by Randi Glazer, assistant vice president, who joins Hiscox from the Fireman's Fund Insurance Co., where she was the Inland Marine manager for the New York region. During the course of her career Glazer has held property and inland marine underwriting positions with primary and facultative reinsurers including CNA, Chubb, Swiss Re America and the Catlin Group.
Willis HRH, the North American business of Willis Group Holdings, reported that David Finnis has been named executive vice president and national property practice leader. Finnis, who joins Willis HRH from Integro Insurance Brokers, will report to Leslie Nylund, chief placement officer for North America. He will be based in Atlanta.
Finnis will lead the company's property practice in North America, including its property placement operations in London and Bermuda.
Finnis has 25 years of experience in the design, marketing and servicing of complex property insurance programs for Fortune 1000 clients. Prior to joining Willis HRH, he was managing principal at Integro. He joined Integro in 2005 after serving as director, Southeast Property, for Aon in Atlanta from 1996.
Earlier, he held leadership roles in the property brokerage units at Johnson & Higgins and Marsh & McLennan, both in New York.
From This Issue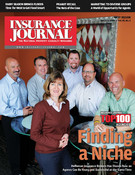 Hospitality Risks Directory; Homeowners and Auto/Antiques and Collectibles; Long-Haul Trucking/ Energy/Oil & Gas