Massachusetts-based Eastern Insurance Group has appointed Matthew Shadrick as executive vice president of its employee benefits division, Eastern Benefits Group. The 20-year industry veteran most recently served as national sales director for the Aon Consulting Human Capital Practice where he was responsible for business development.
Aon Corp. appointed Regis J. Coccia, a former editor of Business Insurance with 20 years of experience in journalism, as director of marketing and communications. In the newly created role, Coccia will support Aon's corporate marketing and communications teams on projects across the company's business units.
CNA named Valynda Murphy vice president of underwriting for its Commercial Technology segment.Murphy brings 25 years of commercial underwriting and brokerage experience. She joins CNA from Marsh., where she served as Technology Placement leader and managing director. Prior to Marsh, she was with USF&G Insurance Co. and St. Paul Insurance Co.
CNA has also named Jeff Day as vice president of underwriting for its Specialty Lines Group. Day will oversee the insurer's accountants professional liability program. Day has nearly two decades of experience. He joined CNA in 1993 as an underwriter trainee. Since 2005, he has served as assistant vice president.
James Eckerle has joined The Hartford as executive vice president, Strategic Initiatives and Enterprise Technology. In this newly created role, Eckerle will report to the company's chairman, president and chief executive officer, Liam E. McGee. Eckerle has 30 years of financial services industry experience, with a specific focus on change management and process improvement. He joins The Hartford from Bank of America where he most recently served as senior vice president of Global Transition, Quality and Change. Eckerle joined Bank of America in 1986 and held a number of leadership roles.
The Hartford also appointed James Gardiner to lead its new Renewable Energy Unit, which provides specialized underwriting and a full suite of property and casualty insurance products and services for makers, builders and operators of renewable energy. John Davison also has joined the company as renewable energy underwriting director. Gardiner will be responsible for the unit's overall management with a focus on business development.
New York-based insurer Merchants Insurance Group has promoted Eric Feit to assistant vice president and regional manager of its Eastern Strategic Business Center in Hauppauge, New York. Feit has more than 30 years of experience in the insurance field, and previously served as regional underwriting manager for Merchants' Eastern office. He started with the company in 2001, and prior to this, he held management positions with several insurance carriers.
New Jersey-based wholesaler Jimcor Agencies has hired Frazier J. Tharpe as professional liability specialist. Tharpe has 25 years of experience having worked on the carrier, wholesaler and claims sides of the insurance industry, concentrating in professional liability coverage.
Connecticut-based E&S broker S.H. Smith & Co. has named Todd Nielsen vice president of its professional and management liability department and head of the firm's new Rhode Island office. Nielsen will focus on coverage for financial institutions, specifically banks, insurance companies, investment advisers, venture capitalists, private equity firms and hedge/mutual funds. Nielsen most recently served as a financial institutions underwriter at Chubb. He began his insurance career at Marsh.
Specialty insurer Torus has appointed Jeffery S. Grange as senior vice president and head of U.S. professional lines. Based in New Jersey, Grange will spearhead efforts to develop the U.K.-based insurer's U.S. professional lines platform. Grange joins Torus from Chubb where he was senior vice president and worldwide manager for professional liability businesses.
From This Issue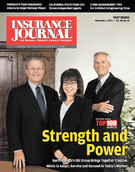 Focus on Professional Liability/PLUS; Habitational/Dwellings; Agents E&O Survey