Liberty Northwest, a Liberty Mutual Agency Markets regional company, appointed Danny R. Schamma to vice president, finance. He will direct the business planning process, oversee financial reporting and analysis, and develop and implement strategies for expense management. He will be based in the company's home office in Portland, Ore.
Schamma has more than 20 years of financial management and analysis experience in the property and casualty insurance industry. He began his career with Liberty Mutual Group in 1988 as a credit analyst in Williamsport, Pa. From 1998 to 2009, he was the division finance manager for Liberty Mutual in Columbus, Ohio.
Lockton Companies has expanded its Financial Services practice with the addition of Christopher Casper as vice president and unit manager.
Casper brings 20 years of insurance/brokerage experience to Lockton, most recently serving as director of Management Liability at Tave Risk Management. Other positions include: managing principal at Integro Insurance Brokers, vice president at Aon Risk Services and Near North Insurance and underwriter at CNA Insurance.
Casper has extensive experience with directors' and officers' liability, employment practices liability and various lines of errors and pmissions coverage including privacy and network security and lawyer's professional liability.
Lockton Companies also expanded its employee benefits practice in San Antonio, Texas, with the addition of registered dietitian and well known television personality Heather King. She previously served as registered dietician and Nutrition Programs manager for Spectrum Athletic Clubs managing corporate wellness programs, educational workshops, group weight loss programs, and specific disease management training for individuals as well as small and large organizations.
King is also the registered dietitian and nutrition expert for San Antonio's NBC affiliate WOAI-TV's Living Show, where she shares her knowledge on current health trends, effective weight loss, healthy cooking, family nutrition and more.
Aon Corp. has appointed Regis J. Coccia, a former editor of Business Insurance with 20 years of experience in journalism, as director of marketing and communications. He joins Aon on Nov. 1.
In the newly created role, Coccia will support Aon's corporate marketing and communications teams on projects across the company's business units with responsibilities including strategic development of client-focused communications and thought leadership.
Indiana Gov. Mitch Daniels has appointed Stephen Robertson as commissioner of the Indiana Department of Insurance (DOI). Robertson, who has served as DOI's executive director since June, replaces Carol Cutter who passed away last month.
Robertson joined DOI in 2008, first as director of the Title Insurance Division and then deputy commissioner of the Title and Bail Bond Division. He ensured the legal compliance of 41 insurance companies and 800 insurance agencies, as well as regulatory oversight of 375 bail bond and recovery agents.
He has a long career of both public and private service, including nearly a decade with the Conseco Insurance Group in Carmel, where he was senior vice president. Robertson has also served as general counsel of the Nebraska Department of Insurance and was a sergeant in the military police. He is a member of the Indiana and Nebraska State Bar Associations and the American Bar Association.
Jim Kapnick, president of Michigan-based Kapnick Insurance Group, has been named to the board of directors of Assurex Global, a worldwide network of independent insurance brokers headquartered in Columbus, Ohio.
Kapnick Insurance Group is a privately held, full service insurance agency providing business insurance, employee benefits, risk management and financial strategies to clients worldwide from three offices in Michigan. Now in its third generation of family ownership, Jim Kapnick, president, and brother Mike Kapnick, chief financial officer, purchased the business from their father in 2007. The company has seen organic growth for the last 30 years under the Kapnick's leadership, and has grown into a full service premiere agency placing more than $200 million in premium volume.
Peter Ignell was appointed vice president of Ironshore Insurance Services LLC, based in St. Louis, Mo. He will be responsible for managing the wholesale property operation and developing strategic underwriting and market direction for Ironshore's team of wholesale underwriters, reporting to Steven England, executive vice president of Ironshore's U.S. Field Operations.
Ignell brings more than 25 years of underwriting, management and engineering experience to Ironshore. Most recently, he was vice president of Chartis' Global Marine and Energy property group in Chicago. Ignell also served in various roles of increased underwriting and management responsibility at Allianz, Hannover, Hannover Re and Zurich North America.
Austin, Texas-based NSM Insurance Group has hired Jimmy Squires as business development manager for south Texas, Alabama, Arkansas, Louisiana, Missouri, Mississippi and Tennessee. Squires has more than 20 years' experience with carriers and managing general agencies in both senior marketing and underwriting roles primarily in Southern states. .
The National Young Agents Committee (YAC) of the Independent Insurance Agents & Brokers of America presented the second annual Young Agents State Liaison of the Year award to Steve Duff, Independent Insurance Agents of Indiana Inc. (IIAI) vice president of government affairs and Young Agents Committee state liaison. Duff has been part of the IIAI team since 1996 and previously served as a lobbyist for the Insurance Institute of Indiana.
The award is presented to a Big "I" YAC state liaison who has provided outstanding support and leadership to their state Young Agents program.
John Amore is retiring from Zurich Financial Services Group effective Dec. 31, 2010. Amore has been with Zurich for 18 years, most recently as senior advisor and a member of the Group Executive Committee.
Amore joined Zurich North America in 1992. He became a member of the Group Executive Committee in 2001 and CEO of the General Insurance segment in 2004, a post he held until July of this year when he assumed his current role as senior advisor.
CNA has named Valynda Murphy as vice president of underwriting for its Commercial Technology segment. In this role, Murphy will collaborate with the global insurer's other key business units to further strengthen thus unit's market presence.
Murphy brings 25 years of commercial underwriting and brokerage experience. She joins CNA from Marsh USA Inc., where she served as Technology Placement leader and managing director. Prior to Marsh, she was with USF&G Insurance Co. and St. Paul Insurance Co.
From This Issue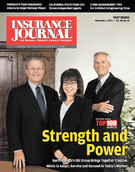 Focus on Professional Liability/PLUS; Habitational/Dwellings; Agents E&O Survey