The Leavitt Group promoted Mark Niebuhr to senior vice president over the Captive and Alternative Risk Consulting Group and Bill Bergan vice president over the Construction & Surety Practice Group.
Both posts are in The Leavitt Group's Sacramento office.
The Leavitt Group's Bay Area office named Trisha Milazzo as a consultant in the employee benefits division.
Niebuhr, who joined the Leavitt Group in 1994, currently handles the risk management and insurance needs for large businesses with an emphasis in manufacturing, technology, engineering and financial services.
Bergan joined the Leavitt Group in 1998 and has responsibility for the agency's surety operations and represents a range of clients for their property casualty requirements. His clients include commercial and residential contractors, developers and homebuilders.
Bergan has a range of experience in the surety and insurance industry, including a CPA background.
Milazzo has more than 10 years' experience in the employee benefits field, with expertise in human resources.
The Leavitt Group's Bay Area, Sacramento and San Jose offices are part of the Jenkins Insurance Services agency.
Edgewood Partners Insurance Center named Joe Dunn vice president of workers' compensation claims in its Fresno, Calif. office.
Dunn will be responsible for workers' comp claims advocacy, and he will work with EPIC's Central Valley clients to manage and reduce claims expense. He will also coordinate and oversee insurance carrier services.
Dunn has 11 years of experience in workers' compensation, settlement negotiation and Medicare. Prior to joining EPIC, Dunn worked as a senior workers' compensation claims adjuster for State Compensation Insurance Fund.
EPIC has a staff of 300 employees working from eight offices across California: Los Angeles, Irvine, Fresno, Folsom, San Francisco, San Mateo, Petaluma and San Ramon.
George Biancardi, previously president of Strongwood Distribution, has been named president and chief executive officer of Monterey, Calif.-based Strongwood Insurance Holdings.
Biancardi will be responsible for leading Sequoia Insurance Company, Networked Insurance Agents, Northeast Agencies and AmCom Insurance Services. Strongwood is the parent company of these four entities.
Biancardi joined Strongwood in 2011 after serving in a variety of insurance leadership roles. Most recently he was as chief executive officer NFP Property and Casualty. Prior to NFP, he was managing director and industry practices leader at Marsh.
SullivanCurtisMonroe named Christopher Warren as a property casualty consultant in its Irvine, Calif. office.
Warren joins SCM from Georgetown Insurance Service Inc., where he was a business development associate. He has experience as an advisor/consultant to contractors, and will work with SCM's construction division.
SCM offers commercial property & casualty, employee benefits and personal lines coverage, and has nearly 200 employees in its offices in Irvine, Pasadena and Corona.
Novato, Calif.-based Fireman's Fund Insurance Co. named Travis Bethune vice president of distribution management and services leader.
Bethune will provide strategic and operational direction for the distribution and agency management team, which is responsible for enhancing agent and broker relationships. Bethune is based in Fireman's Fund's corporate office in Novato.
Bethune came to Fireman's Fund as a national broker. Prior to that he held leadership roles in underwriting, sales, marketing and distribution at Chubb and in operations and customer service at Travelers.
Fireman's Fund is a member of the Allianz Group.
From This Issue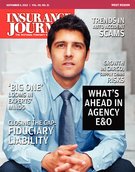 Focus on Professional Liability / PLUS; Habitational / Dwellings; Agents' E&O Survey; Bonus: Free Ad Readership Study ($2500 Value); Bonus: The INDIANA Issue (Special Supplement)