The members of the Surplus Line Association of California have elected Robert Gilbert of Markel West Insurance Services as the new chair of the SLA Board of Directors.
Gilbert's election was finalized after the SLA tallied ballots from members who were unable to attend their annual meetings in February.
Also elected to leadership were Terri Moran of Cove Programs Insurance Services, who becomes vice chair, and Janet Beaver of Tokio Marine-HCC Casualty, who becomes secretary/treasurer.
Gilbert takes over from Tom Ciardello of Worldwide Facilities LLC, who becomes vice chair, who completed his 2017 term as chair and was elected to a seat on the board.
Completing the 13-member board are the following individuals who also served on the 2015 board:
Tim Chaix, R.E. Chaix and Associates
Rich Gobler, Burns & Wilcox
Hank Haldeman, The Sullivan Group
Cameron Kelly, Worldwide Facilities LLC
Pam Quilici, Crouse & Associates Insurance Services of Northern California Inc.
Les Ross, Wholesale Trading Co-Op Insurance Services, LLC
Kathy Schroeder, Sierra Specialty Insurance Services Inc.
Gerald Sullivan, The Sullivan Group
John Washington, Arch Insurance Group
Additionally, SLA members reelected the Honorable Harry Low, a former insurance commissioner and retired presiding justice of the California Court of Appeal, as mediator.
All individuals elected to the 2018 board will serve until balloting is completed following the next SLA annual meeting in February 2019.
The SLA operates as a self-governed private organization and serves as the statutory surplus line advisory organization to the California Department of Insurance.
Cypress, Calif.-based Bowermaster and Associates Insurance Agency Inc. has named Adam Bowermaster president.
Bowermaster has more than 20 years of experience.
Mike Bowermaster, the firm's previous president, will continue to serve as an advisor to the executive team.
Bowermaster and Associates offers services including insurance and risk management, employee benefits, and personal and small business insurance.
Woodruff-Sawyer & Co. has named Josh Pasek assistant vice president in the property/casualty practice of the firm's Southern California office.
Pasek will be responsible for developing risk management programs for clients, with a focus on industrial companies in the manufacturing and transportation sectors.
He was previously a sales executive and producer for Moreton and Co. He was vice president of business development at Oeste Capital Management before that.
San Francisco, Calif.-based Woodruff-Sawyer has offices throughout California, and in Oregon, Washington, Colorado, Hawaii and New England.
Lockton has named Sharon Rogerson assistant vice president and account executive in the firm's signature client group.
The firm has also named Matt Cundith a producer in Lockton's Los Angeles, Calif., office.
Rogerson will be based out of Lockton's Irvine, Calif., office. Her focus will be assisting high-net worth individuals and families.
She was previously a senior account executive at Ericson Insurance Advisors. She was a personal lines customer service representative for Insurance Planning Co. before that.
Cundith will work with clients throughout California and the U.S.
Cundith comes to Lockton from Aon, where he consulted contractors, developers and Fortune 1000 firms on surety risks and solutions.
Kansas City, Mo.-based Lockton is a global professional services firm.
MJ Insurance has named Sean Evans an employee benefits consultant in its Phoenix, Ariz., office.
Evans previously was a franchise owner and operator of Jimmy Johns – Cali Subs LLC in Santa Barbara, Calif.
Indianapolis, Ind.-based MJ Insurance is a commercial insurance, risk management and employee benefits consulting agency.
Pinnacol Assurance in Colorado has named Fiona Arnold, Brad Busse and Bill Lindsay to its board of directors for the term that began Jan. 1.
All three were confirmed unanimously by the Colorado Senate after appointment by Gov. John Hickenlooper.
Arnold is president of MAINSPRING Developers. She has held executive positions at Vail Resorts, Western Gas Resources Inc. and Crown Media Holdings. Arnold previously served on Hickenlooper's cabinet as executive director of the Colorado Office of Economic Development and International Trade.
Busse started Busse Ventures in 2014 after 28 years with RBC Capital Markets. He has experience with mergers and acquisitions, equity and debt capital formation, and financial advisory engagements. Since 2000, he has served on commissions including the Colorado Commission on Early Childhood Leadership and the Colorado Commission on Science & Technology.
Lindsay is an expert in health care and insurance. Before launching Lindsay3 Consulting, he was president of Lockton Cos.' benefit group in Denver. He has served on several state commissions addressing healthcare.
Hickenlooper also reappointed Joseph A. Hoff to another term as an employer farm and ranch representative on the board.
Pinnacol insures a reported 57,000 Colorado employers.
Stone Creek Insurance Agency Inc. has opened a new office in the Paulsen building in downtown Spokane, Wash., and added several insurance professionals to staff the new location.
Thomas Lynch has also been named vice president of operation for Stone Creek and will report directly to Michael Pallas, co-owner and head of operations.
Stone Creek has named Desiree Carter a customer service representative in the Spokane office.
She comes from Travelers Insurance, where she worked for two years in the service department.
The firm has named Victoria VanChieri a personal lines customer service representative in the office.
She specializes customer retention and personal lines coverage maintenance.
Brandon Reynolds has been named an account manager in the office. He previously worked for Travelers Insurance for as a coverage specialist.
Stone Creek is an insurance brokerage that specializes in property/casualty coverage in Western U.S. and Florida.
Burnham Benefits Insurance Services Inc. has named Mirna Medina an account executive in the Los Angeles, Calif., office.
Medina was previously a senior client manager at Arthur J. Gallagher & Co. Before that, she was at Bolton & Co. She began her career as an analyst at EOI Service Co.
Irvine, Calif.-based Burnham Benefits is an employee benefits consulting and brokerage firm with offices in Orange County, the San Francisco Bay Area, Los Angeles, San Luis Obispo, Santa Barbara, Sacramento and San Diego.
Was this article valuable?
From This Issue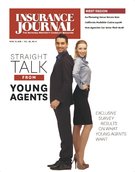 The Young Agents Issue – with Survey Results; Markets: Directors & Officers Liability