SIAA (Strategic Insurance Agency Alliance) has hired Gretchen Klemm as a contracts compliance manager at its Hampton, N.H., location.
In this role, Klemm will manage day-to-day interactions with independent agency members relative to their ongoing commitments. Prior to joining SIAA, Klemm worked at Bottomline Technologies as a contracts manager.
Broome Co-operative Insurance Company, a Vestal, N.Y.-based regional property and casualty insurance company, has announced two senior leadership changes following the retirement of President and CEO Steven Coffey.
Following Coffey's retirement, Siobhan Davey has been named president and CEO, and Ian Coffey has been named chief financial officer.
Coffey's retirement comes after 12 years with the company and more than 40 years in the insurance industry. He joined Broome in 2006 to lead the company's modernization initiatives, which included strategic investments in technology and attaining an A.M. Best financial rating.
Davey has served as chief operating officer of Broome since 2010. In this role, she helped lead the company's new product development and agency expansion throughout upstate New York. Davey is an industry veteran with more than 25 years' experience in the insurance and reinsurance industry. She is the first female CEO in the company's 130-year history.
Ian Coffey has served as vice president of finance for the past two years. He joined Broome from JP Morgan Chase.
The Arbella Insurance Group, a regional property and casualty insurance company headquartered in Quincy, Mass., has appointed Lynellen Ramirez to chief actuary and senior vice president of research analytics.
In this position, Ramirez is responsible for actuarial, research analytics, data scientist and data governance roles. Her department focuses on ratemaking, reserving, financial and statistical reporting, pricing, predictive modeling and implementing the organization's Data Strategy Initiative.
Ramirez joined the Arbella Insurance Group in 1998 as a pricing supervisor in the actuarial department. Along with taking over the leadership of the department in 2008, she became the company's appointed actuary and was named chief actuary in 2011. Prior to joining Arbella, Ramirez was employed by The Hanover Insurance Group.
Lloyd's, a global specialist insurance and reinsurance market, has appointed Dawnmarie Black as the market development lead for Lloyd's Northeast region.
She will be based in the Boston, Mass., area in her new role and will be responsible for market development activities in a 12-state region stretching from Maryland to Maine and Washington D.C. Lloyd's stakeholders in this region include retail, wholesale and reinsurance brokers, program managers, managing general agents, risk managers and the organizations that support them.
Black joins Lloyd's from London broker BMS Group, where she served as a senior vice president on the Risk Solutions team. She brings more than 20 years of experience to her new role, having served in senior roles with Ascot, Aon Benfield, AIG and Chubb.
Keating Inc., a specialty property and casualty insurance distribution company in the U.S., has hired Tim Palmer as a national managing partner in its workers' compensation practice.
Palmer brings a team of brokers to manage and expand business in the Northeast. He and his team will be based out of Philadelphia, with additional team members in Southborough, Mass.
Palmer has more than 15 years of experience in the insurance industry, specializing in underwriting, captives and marketing. He will lead the workers' compensation practice for Keating, with a focus on growing business and opening offices countrywide.
Prior to joining Keating, he served as regional vice president at Patriot National. Palmer was also vice president at McKee Risk Management.
Union Mutual of Vermont Companies, a property and casualty insurance group, has promoted John W. Amick, Anna G. Coon and Emile F. Willett Jr.
Amick was promoted to vice president of claims, and Coon was named executive communications coordinator and assistant corporate secretary. Willett has been named assistant vice president of market and product development.
All three promotions were effective Jan. 1, 2018, and the employees are based in the company's Montpelier, Vt., office.
Amick began his career with Union Mutual in 1991 and was most recently assistant vice president of claims. Coon joined Union Mutual in 2014 and is responsible for its social media and communications platforms. Willett joined Union Mutual as the manager of product development in 2017.
Was this article valuable?
From This Issue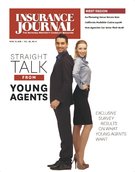 The Young Agents Issue – with Survey Results; Markets: Directors & Officers Liability