S&P lowered its counterparty credit rating on Aon Corp. to "BBB+/A-2" from "A-/A-2." S&P also lowered its preferred stock rating on Aon to "BBB-" from "BBB." In addition, S&P placed all these ratings on 'credit watch' with negative implications.
The ratings were lowered to reflect revised expectations for Aon's earnings and cash flow given the recent announcement by various industry players that they are suspending MSAs. S&P believes that the disruption to earnings resulting from the prospective suspension of MSAs materially reduces Aon's ability to improve its operating and financial profiles. This improvement had been factored into the ratings.
The ratings are on credit watch negative to reflect the ongoing uncertainties related to the continuing investigation by the N.Y. AG, for which Aon is a subpoenaed party, as well as concerns about private litigation.
From This Issue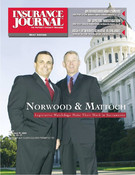 Agriculture