I visited Liberty Mutual's website recently and read information about the company's plans to form a mutual holding company. It sounds like a great deal for policyholders: a more efficiently organized,flexible, stronger and more competitive company. Funny, the website didn't mention that policyholders would be taken to the tune of about $6 billion. Probably an honest oversight.
Liberty Mutual is the latest insurer to try to turn demutualization into a shell game that for policyholders has shells and nothing else. In gambling, this is blatantly illegal. In insurance, it has the blessing of regulators.
To clarify, there is nothing illegal about Liberty Mutual's demutualization proposal. There is nothing original about it either. Prudential, John Hancock, Metropolitan Life, New York Life and Guardian, among others, all had the same idea. These carriers initially got the approval of regulators and most of their policyholders.
So what's wrong with what Liberty Mutual wants to do? Nothing, if you're a fan of legalized bait-and-switch schemes.
The bait: Mutual insurers, particularly life carriers, like to tell prospective clients that buying a policy makes them an "owner" of the company.
The switch: When it comes time to demutualize, the "owners" get an interest in the newly created mutual holding company and no stock in the newly created stock insurer subsidiary. The company's executives get that, or a lot of it, anyway. Interest in a mutual holding company is equivalent to owning the air under a pea-less shell.
On the Liberty Mutual website, in the section entitled "Why MHC?" it is noted that the "restructuring will not change our relationship with policyholders, nor the coverage and contracts they have with us. We will continue to have shared interests with policyholders, who came to us for insurance, not as an investment." The latter sentence makes Liberty Mutual the leader in the clubhouse for this year's prize of "Most Disingenuous Statement."
That Liberty Mutual, with billions of dollars at stake, would display contempt for its policyholders is no surprise, but the company apparently hasn't been paying attention to the holding company plans of Prudential, John Hancock, etc., or Liberty Mutual is also the leader in hubris as well.
In any case, Liberty Mutual, whether it realizes it or not, is in the midst of a public relations war with David Schiff, editor of Schiff's Insurance Observer and occasional 800-pound fly in the industry's ointment. In a recent edition of his newsletter, Schiff labeled Liberty Mutual's MHC plan as a "$6-billion ripoff." Liberty Mutual policyholders, according to Schiff, would receive on average $6,060 to $9,090 if the company fully demutualized and thereby provided stock or equivalent cash payments to its insureds/"owners."
Schiff's numbers might be disputable, but his logic is not. I know, because I am a beneficiary of the efforts of Schiff and other rabble-rousers who derailed similar MHC plans of my life insurer, Principal.
The parallels between Principal and Liberty Mutual are profound. Like Liberty Mutual policyholders, I received propaganda from Principal telling me how its MHC proposal would be of great benefit to me.
Like most Liberty Mutual insureds, I took Principal at its word—until my rabble-rousing insurance agent called and urged me to vote "no" on the MHC. She explained that what I would get is nowhere close to what I should get.
My agent was one of the few Principal producers who urged clients to vote against a proposal that clearly wasn't in their best interests. (Most Principal policyholders voted for the MHC.) The Iowa Department of Insurance, despite hearing from my agent, Schiff and others about the inherent inequity in the plan, approved it. (Let's see, agents dropped the ball, as did the regulator. There aren't many heroes here, are there?)
Only the threat of class-action lawsuits caused Principal to rethink its plans. As such, instead of getting meaningless "interest" in an MHC, I will receive in excess of $16,000 in Principal stock or, if I choose, cash.
I suspect there will be a similar course of events with Liberty Mutual. Most policyholders will, out of ignorance, vote for the MHC; the insurance departments of Massachusetts and Wisconsin will okay it; and then the lawyers will get involved.
The wildcards are what kind of legal advice Liberty Mutual will get and the extent to which the company's executives are willing to push for what Schiff estimates is the 18 percent of the company they would receive in stock and options under the proposed MHC.
Richard Rambeck, the former editor of InsuranceWeek, has written about insurance issues for nearly a dozen years. He can be reached via e-mail at rambo3@ix.netcom.com
From This Issue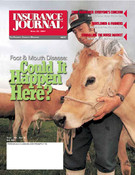 Agriculture Risks