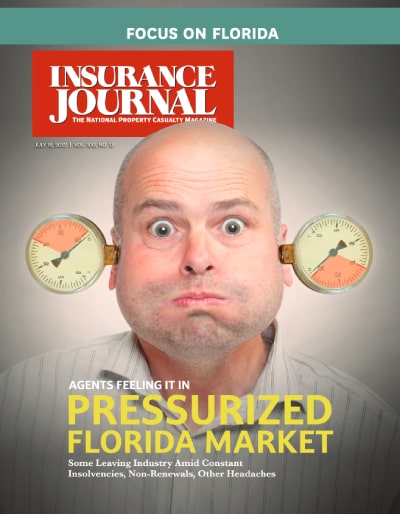 Florida Insurance Agents Feeling the Pain from Roiling Marketplace
What Independent Agents Need To Know about Florida's Insurance Crisis and How to Deal With It
Invasive Creature is Again Threatening Florida Crops, Building Trees, and Could Soon Bring Insurance Claims
30 Years Ago, Hurricane Andrew Slammed South Florida, Changing Everything
Sparks Fly over NFIP Reauthorization, Including Idea to Drop Coverage for Some Flood-Prone Properties
The Market Tightens: With Soaring Reinsurance Costs, More Insurers Pull Out of Murky Florida Waters
Nuclear Verdict: Miami Jury Orders Bar that Served Drunken Driver to Pay $96 Million in Damages
Court Ruling Provides Ammo for Insurers in Florida AOB Cases
Tampa Medical Clinic Owner Charged with Staging Crashes and Submitting $970,000 in False Claims
'Well-to-Do' Investment Firm Head Charged in $300,000 South Florida Insurance Fraud. Claimed He Threw Away the Rolex.
Issues:
January 2022 issues will be published soon.