The Insurance Industry Charitable Foundation (IICF) New York/Northeast division had a packed charity dinner event this year. The event was held on Dec. 14 at the Waldorf-Astoria Hotel in New York. It drew more than 900 attendees and raised more than $1.2 million.
The IICF's Northeast division has now raised more than $5.3 million since its first event in 2007.
"The Insurance Industry Charitable Foundation is a conduit for the generosity of so many individuals and companies in the insurance industry," said David Brinkman, chair of the IICF New York/Northeast division board and executive managing director of Aon Benfield.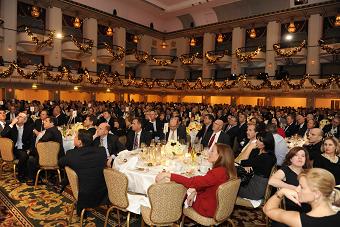 "Our fundraising event has been a focal point for that generosity, and all of the volunteer leaders of the IICF appreciate the past, present and future support provided by so many generous donors."
"We particularly appreciate those who have supported the event since its inception in 2007. Over that period of time, we've doubled our dinner event attendance and hope to continue to break our own records in the future. We aim to make an even-greater impact on our tri-state communities in the future," Brinkman said.
At the event, the IICF awarded grants to 14 not-for-profit organizations in areas of education, children at risk, disaster preparedness, and the environment that serve people and families across the New York/New Jersey/Connecticut tri-state area.
The Insurance Industry Charitable Foundation's mission is to help communities and enrich lives by combining the collective strengths of the insurance industry to provide grants, volunteer service and leadership through the collaboration of insurance companies, reinsurance companies, employees, agents and brokers, and strategic partners of the industry. The foundation was established in 1994 and is completely directed and funded by the insurance industry.
Was this article valuable?
Here are more articles you may enjoy.