New Jersey Gov. Chris Christie announced this morning that Banking and Insurance Department Commissioner Tom Considine will leave his post on Feb. 10.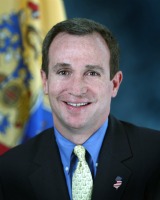 Considine, who became the Garden State's top insurance and financial regulator in March 2010, plans to return to work in the private sector. He will become the new chief operating officer of MagnaCare, a health plan management company, in March.

Also at his news conference in Trenton, N.J., this morning, Gov. Christie nominated Ken Kobylowski to succeed Commissioner Considine. Kobylowski has been serving as chief of staff to Considine since 2010. He's also been serving as acting director of banking since last October.

Rumors have circulated for months that Considine would be leaving his post, following the departure of a number of other cabinet members.
Considine is credited with leading the department's effort to reduce regulatory red tape and simplify the application procedures for new carriers entering the state and lower the new product approval times. He has also spearheaded the department's captive insurance initiative. According to the New Jersey Department of Banking and Insurance, some 60 new insurers have been admitted and new business lines to more than 64 companies have been extended during Considine's two-year tenure.
At the national level, Considine has been leading the National Association of Insurance Commissioners (NAIC) Reinsurance Task Fore to reform the collateral requirements for non-U.S. reinsurers. The new model law was adopted by the NAIC last November.
One major reform initiative remained unfinished, however. The department's effort to reform personal injury protection insurance is still ongoing. The department's 200-page-plus proposed changes aim to close loopholes that are being exploited by some providers, and cap PIP expenses and control the rising medical costs that insurers pay for auto accident victims. The department has recently amended some 25 percent of its PIP rule proposals, after reviewing and incorporating recommendations from more than 18,000 public comment letters it received last year. The new, amended portions of the proposals will be published for another, 60-day public comment period starting Feb. 21.
Considine was a vice president with MetLife legal affairs prior to serving as commissioner. He had been with MetLife for 17 years. Prior to joining MetLife, Considine served as a litigation associate at Connell, Foley and Geiser, a major New Jersey law firm.
Was this article valuable?
Here are more articles you may enjoy.