Ken Kobylowski, acting commissioner for New Jersey Department of Banking and Insurance, is teaching teenagers about the importance of financial literacy.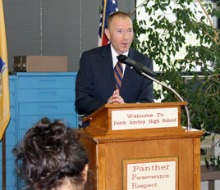 "Learning about financial literacy is just as important as learning about English, mathematics or science," Kobylowski said during his visit to Perth Amboy High School last week.
"Being smart about your money can be just as important as being book smart. Knowledge is power, and financial knowledge is financial power. Financial knowledge is vital to financial success."
It is part of the department's ongoing financial literacy program to help teenagers. The program, developed in a partnership with the banking community and the Department of Education, aims to educate high school students about such financial basics as creating a household budget and balancing a checkbook; how credit cards and bank accounts work; and how to avoid identity theft.
"Track your expenses closely. Many people do not have a clear understanding of how they spend their money," Kobylowski told students. "Never use a credit card to purchase an item that you want but you can't afford to pay for that day. You should use credit cards as a convenience."
A new financial literacy high school graduation requirement began in New Jersey last year with the 2010-2011 ninth grade class.
All students will take at least 2.5-credits in financial, economic, business and entrepreneurial literacy. By graduation, students will demonstrate an understanding about how the economy works and their own role in the economy and develop the necessary skills to effectively manage personal finances.
The Department of Banking and Insurance is also expanding the financial literacy program and will begin making presentations to senior citizens covering such topics as life insurance, annuities, long term care and reverse mortgage.
Was this article valuable?
Here are more articles you may enjoy.