Massachusetts Attorney General Martha Coakley and officials from across the country are advising teen drivers to be mindful of the dangers of texting while driving.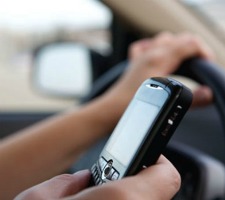 "Young adults now spend more time texting, emailing, and accessing data on their phones instead of talking, but when they are behind the wheel of a car, they cannot give in to the urge to constantly respond," Coakley said. "Distracted driving is dangerous and sometimes fatal."
Five seconds is the average time a driver's eyes are off the road when texting. That may not sound like much, but when traveling at 55mph, that's enough time to cover the length of a football field, according to officials.
May is the National Youth Traffic Safety Month, and May 1 was the inaugural Stop the Texts Day. On May 1, together with the National Highway Traffic Safety Administration, the state attorneys general, consumer protection agencies, and the Ad Council, Coakley unveiled new public service advertisements featuring popular NASCAR driver Kasey Kahne.
In July 2010, Massachusetts became the 29th state to ban texting behind the wheel for all drivers and to ban cell phone use while driving for those under the age of 18. But according to a national survey released by the Ad Council, 60 percent of young adult drivers (16-24) said they have texted while driving.
The National Highway Traffic Safety Administration reports that distracted driving is the number-one killer of American teens. In 2010, more than 3,000 people were killed and an additional 416,000 were injured due to distracted driving, which includes texting while driving.
The goal of Stop the Texts Day was to extend the message of the "Stop the Texts. Stop the Wrecks" via social media in an effort to educate young drivers about the risks of texting while driving.
Was this article valuable?
Here are more articles you may enjoy.