Walmart and Target Corporation will pay $232,000 to cities and towns across Massachusetts to settle allegations that the companies allegedly overcharged public agencies for prescription drugs through the workers' compensation insurance system.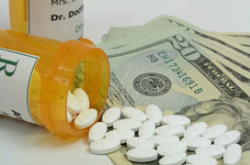 Massachusetts Attorney General Martha Coakley announced the settlement on Tuesday.

Under the terms of the settlements, filed in Suffolk Superior Court Monday, Massachusetts cities and towns will receive $207,000 from Walmart and $25,000 from Target.

The payments include double damages for violations of the state's False Claims Act as well as restitution for alleged overcharges. The terms also require the chains to put procedures in place to guard against future overcharges.

Cities and towns affected by the allegations against Walmart and Target include Amherst, Boston, Concord, Everett, Fall River, Framingham, Hingham, Lowell, Plymouth, Springfield and Worcester.
The settlements with Walmart and Target follow actions by the attorney general's office against major pharmacy chains CVS, Rite-Aid, and Walgreens, which Coakley alleged also overcharged towns and cities for drugs under the workers' comp system. The attorney general's office has also obtained recoveries from both Shaw's Supermarkets and Stop & Shop regarding their workers' comp municipal prescription businesses.
The investigation of prescription overcharges to municipalities under the workers' comp system is ongoing. Combining the major pharmacy chain cases and the settlements with lower-volume alternative retailers, investigations have recovered over $8 million thus far, according to the attorney general's office.
"Cities and towns are under a great deal of economic pressure to provide much needed services to their residents," Coakley said. "We are proud of our work to get money back for cities and towns and to prevent such overcharges from happening in the future."
Topics Massachusetts Drugs
Was this article valuable?
Here are more articles you may enjoy.