New York City saw a rise in the citywide traffic fatality figure for the last fiscal year that ended June 30.
What could be causing this increase? The city's transportation commissioner suggests pedestrians distracted with their smartphones and iPhones could be partly to blame, according to a news report.
In an article in The New York Times on Sept. 26, New York City Transportation Commissioner Janette Sadik-Khan is quoted as saying that iPhone has not invented an app yet that could alert users when they approach a crosswalk.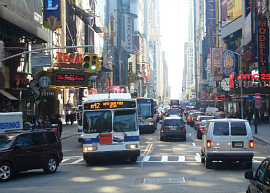 She goes on to say that in the past, she has even grabbed and saved a few distracted pedestrians who were looking down at their smartphones and were unknowingly crossing the street when cars were oncoming.
In New York City, the number of traffic fatalities involving pedestrians or bicyclists was 176 for the fiscal year that ended on June 30, up 11 percent from the previous year.
The danger of "distracted walking" was also the topic of a recent editorial in The Washington Post.
Titled "Pedestrian deaths show need to curb distracted walking," the newspaper's editorial board wrote in August that government officials and organizations should consider measures that would require pedestrians to pay more attention to their surroundings.
"If distracted driving is an issue worth addressing, so is distracted walking…No one — neither legislators nor pedestrians — seems to be taking any of this seriously," according to The Washington Post's editorial page.
According to a recent report from the U.S. Department of Transportation (a PDF file), 4,280 pedestrians were killed and an estimated 70,000 were injured in traffic crashes in the United States in 2010 — a 4 percent rise from the number reported in 2009.
On average, a pedestrian was killed every two hours and injured every eight minutes in traffic crashes around the country. In 2010, pedestrian deaths accounted for 13 percent of all traffic fatalities, and made up 3 percent of all the people injured in traffic crashes, the report said.
Topics New York
Was this article valuable?
Here are more articles you may enjoy.