Allstate announced this month that it has expanded its usage-based auto insurance product, Drive Wise, to four additional states including New York and New Jersey.
"Drive Wise rolled out in Colorado, Michigan, New Jersey and New York on October 8, joining Arizona, Illinois, and Ohio which already had the program," Allstate spokesman Justin Herndon told Insurance Journal.
Herndon said the company expects to add three more states by mid-November, pending regulatory approvals. "That would bring the total to 10 states with further expansion in 2013 planned, as well," he said.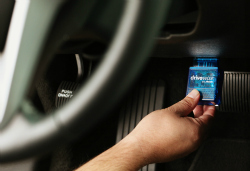 Allstate said its usage-based insurance measures things such as mileage, braking, speed, and time of day when a customer is driving. Using that data, Allstate calculates a driving discount for each customer using its telematics technology.
"We're excited about expanding Drive Wise because of what it offers our customers — both a discount and feedback to help become safer drivers," the Allstate spokesman said.
One of the big advantages with Drive Wise is that it can constantly provide feedback to the consumers for as long as they keep the device in the car, he explained.
"Our desire is to enable the customer to improve his/her driving over time and reward him/her for it. Everybody wants to think they're a safe driver, Drive Wise allows them to prove it and earn a discount for it. Now, that opportunity will be offered to more and more drivers across the country as we continue to expand the program," the spokesman said.
Allstate's Drive Wise utilizes data from a monitoring device plugged into a car's onboard diagnostic port. Of the drivers earning a discount, the average savings is nearly 14 percent per vehicle, the company said. More than 10 percent of all new Allstate customers are opting to participate in this coverage.
Was this article valuable?
Here are more articles you may enjoy.