People looking to rebuild their lives after Superstorm Sandy destroyed and damaged their homes may now have another struggle on their hands: Navigating the often-frustrating claims process with their insurance companies.
This time around, people won't be paying exorbitant hurricane deductibles for Sandy — which technically hit land as a tropical storm.
Even though there is a lag between when an insured files a claim and a payment is made, insurers are required by law to pay in a timely way or face hefty fines.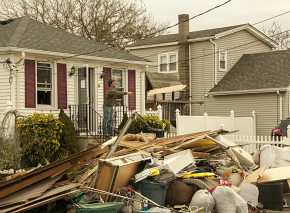 Residents also should be aware that homeowners insurance does not cover flooding, and that those who don't have flood insurance can forget about collecting for flood damage on your homeowner's policy.
And people also can expect their premiums to go up.
Jan Morris, whose Hillside Avenue home in Milford is across the street from a row of houses that are no longer habitable, said she felt lucky to survive the storm with only roof damage. The front half of her roof will have to be replaced, but unlike when Irene hit, she isn't facing the hurricane deductible.
"I did have a claim for windows in Irene," Morris said. But her deductible was $7,000, so she paid for that out of pocket. "They will be covering the roof this year. Go figure."
Connecticut Gov. Dannel P. Malloy recently warned insurers not to charge hurricane deductibles, which often are a percentage of the home's total value and can be quite high.
Now people will be paying only their standard home or flood insurance deductibles for repairs.
"The state moved very swiftly to alert the industry that this storm — although devastating to so many — did not meet the criteria for a hurricane deductible under state law. Homeowners will not have to pay high-cost hurricane deductibles for damage resulting from this storm," Malloy said.
Donna Tommelleo, an Insurance Department spokeswoman, said insurers face fines if they don't pay claims quickly and that people should contact the department's consumer advocate if they have problems collecting.
But Tommelleo said the insurance industry in Connecticut has a good record for paying out claims.
"For Irene, we got 250 complaints," she said, noting not all were substantiated. "But when you put that in perspective, the industry had 60,000 claims from Irene and paid out almost $240 million."
Ron Kalb, an agent with Siegel Insurance Agency in Danbury, said smaller repairs usually are paid out more quickly. The home or business owner often is told to survey the damage, take photos and then hire a contractor to do the work with the bill to be submitted later.
But a total rebuild does take longer, not only as the insurer must document the costs but because the design and construction process also takes more time.
People also should read their policies carefully so they understand what is covered and what isn't.
Standard homeowner's insurance does not cover flooding, Kalb said.
"If people don't have flood insurance, they're going to be out of luck," Kalb said.
The Federal Emergency Management Agency's National Flood Insurance Program is the country's largest provider of flood insurance, which is not offered by many commercial carriers.
But people without insurance are not totally without help. Federal aid is available to individuals and business owners affected by the storm.
There are disaster loans up to $200,000 available to homeowners to repair or replace damaged or destroyed real estate through the U.S. Small Business Administration. Homeowners and renters are eligible up to $40,000 to repair or replace personal property.
Businesses and private nonprofit organizations of any size may borrow up to $2 million to repair or replace disaster damaged or destroyed real estate, machinery and equipment, inventory, and other business assets. The SBA may increase a loan up to 20 percent of the total amount of disaster damage to real estate and/or leasehold improvements, as verified by SBA, to make improvements that lessen the risk of property damage by future disasters of the same kind.
Diego Alvarado, a FEMA spokesman, said people should call and register with the agency to get the process going.
As with insurance, it takes time before funds are paid out, he said.
Jennifer Wislocki, a spokeswoman for Travelers in Connecticut, said her company already is receiving claims and has about 5,000 people staffing phones or meeting in person with customers. It has set up five mobile claim offices in affected areas. Other insurers reported taking similar steps.
She said; "We are committed to reaching impacted customers, as soon as it is safe to do so, to help them being the recovery process as quickly as possible."
Copyright 2022 Associated Press. All rights reserved. This material may not be published, broadcast, rewritten or redistributed.
Topics Carriers Claims Flood Hurricane Homeowners Connecticut
Was this article valuable?
Here are more articles you may enjoy.