New York Governor Andrew Cuomo on Thursday imposed emergency regulations on insurers to speed the processing of claims from hundreds of thousands of state residents whose properties were damaged or destroyed when Superstorm Sandy struck a month ago.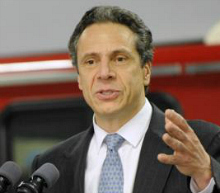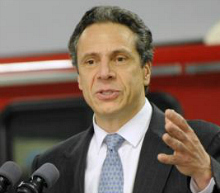 Among the measures Cuomo unveiled was a requirement reducing the time limit for insurance company claims adjusters to respond to a claim to six days from 15 days.

He also said the state's insurance regulator would begin posting to the agency's website report cards on the performance of insurers, with the aim of making the companies more accountable for their response to customers needing assistance following the storm, which struck the Northeast on Oct. 29. (The insurance companies' report cards can be found on www.nyinsure.ny.gov/nys-insurer-report-cards.)

The storm knocked out power to millions and damaged or destroyed at least 305,000 houses in New York, according to state estimates.
Homeowners have complained that they have struggled to get insurance adjusters to come their properties to begin critical repair work, Cuomo told a New York City press conference.
Insurance companies have received 360,000 claims so far, he said, adding that the emergency regulations, which are effective immediately, will make a "major, major difference."
Of the 24 insurers being rated by the state on the new report cards, Allstate Corp had the highest volume of customer complaints, nearly twice as many as the next company on the list. As a percentage of total claim volume, though, Allstate's ratio was one of the lower ones in the industry.
An Allstate spokeswoman was not immediately available to comment.
NYIA: 'We Felt It Was Heavy Handed'
The head of the trade group representing property insurers in New York State said her members were in talks with officials as recently as this week about a voluntary approach to reducing claims adjustment times in the wake of Sandy.
"Obviously, they did not decide to do that," said Ellen Melchionni, president of the New York Insurance Association, in an interview. "None of the public policymakers in neighboring states have felt the need to do the things they've done in New York," she said. "We felt it was heavy handed."
A Cuomo administration official, speaking on condition of anonymity, acknowledged that there had been talks on a voluntary program but said three of the state's largest insurers could not agree to the kind of firm timetable for adjusting claims that regulators wanted. The official did not name the three.
Melchionni said most insurers were already well within the old 15-day guideline, even where their adjusters had been hampered by a lack of access to damaged areas or a lack of gasoline to reach the affected homes.
She also acknowledged, though, that insurers had little choice but to comply with the new rules. The administration official said they are likely to stay in place until all Sandy-related claims are adjusted.
Slow claims adjustment is a common problem after major natural disasters like Sandy.
In 2009, a Louisiana court ordered the state's insurer of last resort to pay policyholders civil penalties because it took too long to start adjusting claims following Hurricanes Katrina and Rita. With interest, those penalties now exceed $105 million.
At Gov. Cuomo's direction, the N.Y. Department of Financial Services is publishing report cards on the following companies:
• Nationwide
• Liberty Mutual
• Hartford
• FM Global
• Allstate
• Chartis/AIG
• State Farm
• USAA
• Utica National
• Zurich
• Metropolitan
• Narraganset Bay Insurance Company
• QBE
• Arch
• New York Central Mutual
• Amtrust Financial
• Travelers
• Tower
• Adirondack Insurance Exchange
• Chubb
• GEICO
• Andover
• Assurant
• NYPIUA
Was this article valuable?
Here are more articles you may enjoy.