Recovery from Superstorm Sandy is proceeding at a steady pace with the help of billions in federal aid, shifting attention to measures that can be taken to reduce or prevent similar devastation in the future.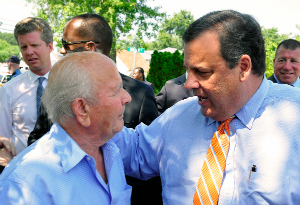 That will include a multi-layered approach that takes into account how each proposed flood-mitigation project affects others, U.S. Housing and Urban Development Secretary Shaun Donovan told residents of Little Ferry, N.J., Tuesday.

Appearing with Gov. Chris Christie at a park less than a mile from where the Hackensack River went over its banks on Oct. 29, Donovan discussed the report released Monday by the federal Hurricane Sandy Rebuilding Task Force he heads.

A key aspect of the report was the convening of a forum bringing together local, state and federal agencies involved in proposed major infrastructure projects, Donovan said. The groups are supposed to continue meeting at regular intervals.
One of the most ambitious proposals is New York Mayor Michael Bloomberg's nearly $20 billion plan to put removable floodwalls in lower Manhattan, and levees, gates and other barriers elsewhere around the city.
"If there's a seawall built on the New York City side of New York Harbor, that's going to push water toward New Jersey," Donovan said Tuesday. "But if we protect New York Harbor as a region, it means your creeks won't flood in the same way next time. All of this is connected."
Hoboken Mayor Dawn Zimmer is pursuing a comprehensive plan to protect her city, which suffered extensive flooding to businesses, residences and Hoboken's historic rail terminal. The city has agreed to be the guinea pig for a "smart grid" program to fortify its electrical system in emergencies and is looking at different types of barriers at the northern and southern ends of the city where the Hudson River spilled over.
"If we could do the regional solution within the next couple of years, I would be totally supportive," she said. "My concern is the timing; in Hoboken we need help now."
In Little Ferry and neighboring Moonachie and Carlstadt, a tidal surge backed up the Hackensack and pushed it over a series of earthen berms, some of which were decades old and not even meant for flood protection. Future flood prevention efforts likely will be focused elsewhere, said state Sen. Paul Sarlo, whose district includes those three communities.
"I don't believe, sitting here today, that there is an answer from the federal government or the state government on the berms and how to protect these communities from a surge of that magnitude," he said. "So I think what you're going to see are studies about whether you put a tidal wall" in the harbor.
Copyright 2021 Associated Press. All rights reserved. This material may not be published, broadcast, rewritten or redistributed.
Topics New Jersey
Was this article valuable?
Here are more articles you may enjoy.