The new World Trade Center complex is taking shape; The 4 World Trade Center, a 72-story building at the southeast corner of the site being developed by Silverstein Properties, is scheduled to be completed this November and open its doors to tenants. And the One World Trade Center, a 104-story building developed by the Port Authority, is expected to be completed early next year.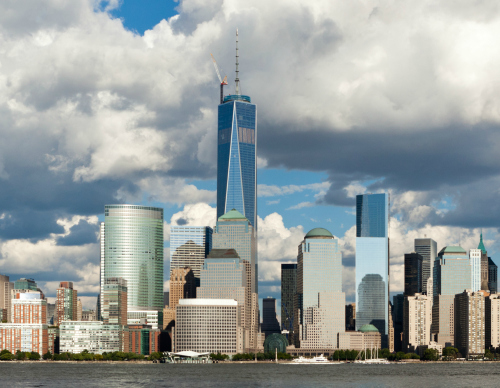 Silverstein Properties is developing three towers at the site: 2 World Trade Center and 3 World Trade Center, in addition to the soon-to-be-completed 4 World Trade Center.

Shari Natovitz, risk manager for Silverstein Properties and World Trade Center Properties, said putting together insurance and risk management programs for a project of such magnitude required close partnerships and a team effort of everyone involved.

Overcoming Challenges

"I think first and foremost, we had to overcome the idea that we were building at the World Trade Center site that's been associated with such a catastrophe," Natovitz told Insurance Journal.

But that challenge was overcome by two things, she explained. "First of all, we introduced the marketplace to our team. We have an extraordinary group of engineers, project managers that are part of the World Trade Center group. The professionalism of everybody involved in that group became apparent to the marketplace and became a critical factor in the markets being willing to get involved in such a large project, which many markets could have otherwise shied away from."
The second thing, she added, is the way these buildings were designed and are being constructed. The fact is that "when you are talking about billion-dollar buildings, you are always going to have challenges," she noted. "But with the robust life safety that's built into the buildings, the extraordinary redundancies and physical protections that are built into the buildings, it became clear to the underwriting community that these were truly unique buildings that are leading the way in the 21st century, and that they could look at them differently, with a very unique set of eyes."
So Natovitz and her team's challenge was to get the marketplace to look at these buildings and see the development team, she said: "And the underwriting community responded to that. We have very close relationships with all our underwriters, which I think has been part of our success."
"We have a very strong and ongoing communication plans with the markets, and that truly helped us over the course of time. We were able to get out in front of and give them information that helped them understand what was going on," Natovitz said.
"We were able to give them information that, when this project took a long time to come to fruition, it helped them to understand not only the delays but the optimism that we had for being able to see a future where we were going to build buildings, which is exactly what we did."
Main Goals in Risk Management
The main goals in terms of risk management were protecting the assets of Silverstein Properties and World Trade Center Properties, safeguarding thousands of workers at the site and the public and putting in place robust, comprehensive safety programs, Natovitz said.
"We wanted to make sure that what we are building was going to be protected via insurance. Right along with that, we were going to have thousands of workers on the site. And we were going to be building adjacent to public sidewalks and buildings that were within reasonable proximity to our buildings," Natovitz said.
"So our second, also critical objective was to put into effect a safety program that made sure that everybody who came to the site went home as healthy as they arrived, and that we had a program that protected the public while we were building. So we needed to make sure that those two roles became compatible and part of the overall risk management program."
"We needed to put in a very robust builder's risk program. In conjunction with that, we also needed to buy environmental coverage, because that's part of the overall protection plan for the site," the risk manager said.
The environmental protection program had two pieces, she said. One was to secure protection for any inadvertent activities that contractors at the site might get involved in, such as, for example, spilling some fuel while they were doing construction.
"We wanted to make sure that we had the cleanup capability for that. We wanted to make sure that if anything migrated off the site, that we had the liability protection to protect us and our contractors," she said.
The second part of the risk management focus was to look at all the workers coming to the site and all the different firms coming to the site. And, she noted, "we immediately recognized that it didn't make sense to have each company, each contractor bring their own insurance to the site, that we were going to have to put into effect a very large program called the wrap-up, or an owner-controlled insurance program, that was going to protect all of the workers coming to the site."
"We recognized that by taking the responsibility for controlling the insurance placement, that we could be assured that all the workers coming onto our site to do work would be protected by the appropriate workers' comp insurance," she said, "and that there would be very, very robust general liability terms, including significant excess liability, to protect us, to protect the contractors and to make certain that we have the financial ability to respond to third-party claims."
Natovitz said the wrap-up insurance program purchased also included an integrated safety program that added to the safety resources already coming to the site from contractors. "It added safety resources from our broker Willis who spent a significant amount of time with loss prevention activities at the site. It also brought to the site the loss prevention and safety resources of our carrier AIG."
Natovitz said her team then tied it together by putting on-site medical clinics from healthcare firm Medcor to support the workers and integrated it into the overall wrap-up program. The Medcor emergency technicians could respond to every incident that occurred at the site, she said. In many instances, all that was required was the first aid response. Where a more serious response was required, Medcor helped coordinate to ensure that the individual workers got the care that they needed at appropriate facilities.
She also said broker Willis also helped create a program that provided a capability to coordinate and record the loss prevention and safety observations from all different entities, including every contractor that was contributing to the safe work being done at the site. "We had a significant amount of data — and for that, Willis worked with a company called E-Safety who created a unique program for us to be able to manage everything that was occurring at the site," she said.
"We then asked Willis to go into the worldwide marketplace, to purchase additional limits so that we could buy very significant limits of liability," Natovitz said. For that, Lloyd's of London was a very significant participant, as were many of the Bermuda markets, she said. She added that, all in all, well over 25 different markets came together to provide the insurance needed.
In the builder's risk, approximately 28 different markets worldwide came together to provide the total limits needed to protect the program. In that instance, AIG, ACE and Munich Re led the primary coverage.
4 World Trade Center
Commenting further on the soon-to-be-completed 4 World Trade Center, Natovitz said the building offers unparalleled safety features. "Let's start with life safety, about the way this building was built, with larger stairwells that are being used for egress, with the protection of an inner core that has 2-foot thick reinforced concrete instead of the sheet rocks of many, many buildings," she said.
"We overcame everybody's concern about why the Trade Center collapsed — by literally taking them to the building and showing them the fireproofing which is approximately 10 times more robust in terms of its ability to adhere to the building than anything that was at the Twin Towers. So we have so many things that are built into the building from a protection standpoint, not only protect the building but protect the people in the building."
Natovitz also noted that her company had engineers and building managers on site more than a year before the building was going to be completed. "So we now have people who will be running this building, who are already experts at it, who know this building inside out from ground up. That's almost unique to any building that you will see being managed. So that creates a very positive environment for us and for our tenants."
'Never Just a Single Risk Manager's Job'
"Putting together the risk management program, the insurance, the safety, the claims management, the data management — for not only the projects but also the buildings — is never just a single risk manager's job," Natovitz said.
"And not only has this been an extraordinary partnership between our broker Willis and all of the carriers who are involved in this — and it couldn't be successful if we didn't treat it as a partnership — but it's also been a partnership within the Silverstein organization, where everyone from our development folks, the World Trade Center personnel, to our operations people who are running the building, to the people who are doing leasing, to every single person right up to and including media and communications," she said.
"Every single facet of Silverstein is part of the team that helped to create all of the information that we needed to give to the markets so that they could effectively underwrite us," Natovitz said, "and they all have been available to the markets for any questions that their engineers or their underwriters might have. It's been a team effort, and it's been a very good effort, and we expect that success to continue."
Was this article valuable?
Here are more articles you may enjoy.