The deadly train derailment in New York City may force railroads to install automatic brakes by 2015 and dash industry efforts to put off adding the technology by five years.
The Metro-North Railroad wreck may persuade Congress to reject legislation postponing adoption of the braking technology — which investigators say might have prevented the accident — as late as 2020, proponents say. Metro-North and other railroads had lobbied for the delay.
"It's likely to give more strength to the efforts to get positive train control installed sooner and probably to make it more difficult for people who are trying to slow that down," said Ross Capon, president of the National Association of Railroad Passengers, a Washington-based advocacy group.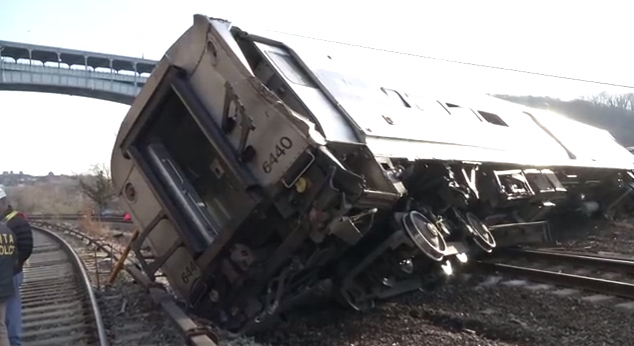 The top U.S. rail-safety regulator yesterday ordered the Metro-North Railroad's operator to immediately boost safety following the Dec. 1 accident. The wreck drew attention to systems that can automatically slow or stop a train if it's exceeding a speed limit, as was the Metro-North train that derailed in the Bronx. The National Transportation Safety Board said the train was going 82 miles per hour on a 30-mph (48 kph) curve before it left the tracks, killing four passengers.
"Since this is a derailment involving a high-speed train, it's possible that PTC could have prevented it," Earl Weener, a member of the NTSB, told reporters at a briefing yesterday.
Metro-North said on its website that its Hudson Line service for today will be 98 percent operational while passengers should expect delays and crowds.
'Untested' Technology
Metro-North trains, such as the one that derailed on its Hudson Line, don't have automatic braking technology, said Ken Briers, a retired locomotive engineer who spent 21 years as a railroad operations analyst for Parsons Corp. Metro-North's operator, New York's Metropolitan Transportation Authority, last month signed a $429 million contract to start work on its development for Metro-North and the Long Island Rail Road.
The railroads updated plans for implementing positive train control with the U.S. Federal Railroad Administration and "reported that compliance by the currently mandated date of December 2015 was not possible and advocated for an extension of the deadline until 2018," they wrote in a staff summary for a Nov. 12 board meeting.
Under Development
"Much of the technology is still under development and is untested and unproven for commuter railroads the size and complexity of Metro-North and LIRR, and all of the radio spectrum necessary to operate PTC has not been made available," the MTA said in a statement yesterday distributed by Aaron Donovan, a spokesman.
Positive-train-control systems work as long as the brakes are operating normally, as they were on the Metro-North train, according to Weener.
"One of the primary things PTC does is it takes over when an operator fails to adhere to the speed restrictions," Frank Wilner, a former chief of staff for the U.S. Surface Transportation Board and author of six books on the railroad industry, said in an interview.
The FRA says its hands are tied when it comes to extending the deadline set by Congress. Yesterday, the agency cited changes that Metro-North needs to make, including mandatory safety retraining of workers and the creation of a confidential reporting system that lets employees report safety concerns.
In a letter to the MTA, the FRA said it's thinking about additional ways to improve the railroad's safety.
2008 Law
The MTA needs to show its employees "a serious, good faith commitment to the safe operation of the system and inform them of the steps that MTA will take to enhance safety in both the short- and long-term," Federal Railroad Administrator Joseph Szabo wrote in the letter to MTA Chief Executive Officer Thomas Prendergast. Szabo asked for a response by Dec. 6.
Congress passed a 2008 law requiring positive-train-control technology on about 60,000 miles of the 160,000-mile U.S. rail network, a vote that occurred weeks after 25 people died in a Los Angeles commuter train crash. About 40 railroads are required to install the systems.
The NTSB determined that the lack of a positive-train- control system was a contributing factor in a May 2011 Port Authority Trans-Hudson Corporation train collision in Hoboken, New Jersey, that injured about 30 people, according to a report on the accident issued in November 2012.
Delay Sought
Positive train control includes hardware on thousands of towers along railroad tracks and in locomotives that wirelessly communicate the locations and speeds of trains.
Railroads have sought a delay of as much as five years to install the technology, which is required on corridors that transport passengers or materials that are hazardous to inhale.
Only Burlington Northern Santa Fe, among the four largest U.S. freight railroads, has said it can meet the deadline. The others have said they can't have the systems ready until at least 2017.
Bills in both houses of Congress that would have extended the deadline until 2020 died last year. A version was reintroduced in the Senate in August by John Thune, a South Dakota Republican, with two Democrats and one Republican co- sponsoring.
Representative Sean Patrick Maloney, a New York Democrat, yesterday introduced legislation that would let commuter railroads use U.S. rail-infrastructure loans to help implement positive train control. Maloney said he was a Cold Spring, New York, neighbor and friend of James Lovell, 58, a father of four who died in the crash.
Air, Rail
Congress has a history of passing laws after aviation and railroad accidents to address weaknesses that contributed to deaths. The positive-train-control requirement was one of those, as were laws that strengthened passenger railcars and made windows easier to escape from after accidents.
The window requirements may have had the unintended consequence of allowing passengers in the Metro-North crash to be thrown through them, Briers said. New rules have made it easier for emergency responders or trapped passengers to pop out a window.
The latter laws, which led to final rules published two days before the Metro-North accident, emerged from passenger wrecks in Maryland in 1987 and 1996.
Alternative Technologies
The FRA has asked Congress to allow time extensions for positive train control on some rail lines and allow alternative technologies, according to a Government Accountability Office report published in August that backed those changes.
On top of arguments that the technology can't be available or tested on such a broad scale by the deadline, the railroads this year have pointed to the U.S. Federal Communications Commission's decision in May to halt construction of wireless towers needed for the system.
The FCC said each of the 22,000 proposed tower locations would need to be reviewed by Native American tribes as to whether they have historical significance.
"The FCC issue is really throwing a glitch into people's implementation because there is a stop-work order in place," said Patti Reilly, a spokeswoman for the Association of American Railroads, based in Washington. "We can't do anything with a stop-work order."
Metro-North is a member of the Washington-based Association of American Railroads, which has six in-house lobbyists and also employed nine from the outside during the third quarter of this year.
The association's members also include the biggest U.S. freight railroads and Amtrak, the U.S. long-distance passenger railroad.
Railroad Lobbying
AAR's in-house lobbyists reach out to lawmakers on positive-train-control legislation and on issues related to the FCC's process for antenna approval, according to a disclosure statement filed with the U.S. Senate.
At least three of the outside lobbying firms mentioned in disclosure reports that they advocated on issues related to positive train control during the quarter that ended Sept. 30. That includes a firm led by former Senate Majority Leader Trent Lott, a Mississippi Republican, and former Democratic Senator John Breaux of Louisiana.
The association spent $1.78 million on all lobbying activities in the third quarter, according to the disclosures. The Senate bill is S. 1462.
With assistance from Laura Litvan in Washington, Chris Dolmetsch in New York State Supreme Court in Manhattan, Freeman Klopott in Albany and Elise Young in Trenton. Editors: Bernard Kohn, Michael Shepard
Copyright 2021 Bloomberg.
Topics Insurtech
Was this article valuable?
Here are more articles you may enjoy.