New York's Metropolitan Transportation Authority (MTA) has a wholly owned insurance subsidiary, a captive insurer called the First Mutual Transportation Assurance Company (FMTAC), that will provide part of the coverages for liability and property losses stemming from the Dec. 1 Metro-North Railroad train derailment.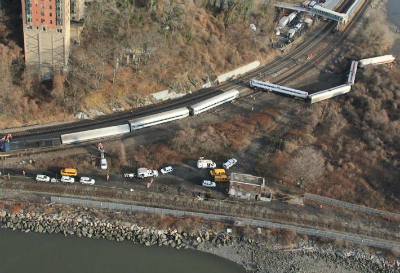 FMTAC was incorporated under the New York state laws as a pure captive insurance company in 1997, providing insurance coverages for the MTA and its family of agencies including the Metro-North Railroad. Its coverages include general liability, property and terrorism, all-agency protective liability and builder's risk.

Commenting on insurance coverages that would be triggered by the Dec. 1 train derailment, FMTAC said that for general liability for third-party claims, the MTA has a $50 million per-occurrence all-agency liability coverage layer through FMTAC, which is in excess of the Metro-North's self-insured retention of $10 million per occurrence. Furthermore, the MTA has additional $350 million liability coverage above that layer through the commercial markets.
Laureen Coyne, director of risk and insurance management for the MTA and president of FMTAC, said there are about half a dozen carriers that share the layers up through the tower. She said it's too early to tell whether the excess liability coverages through the commercial markets might be triggered.
On the property side, FMTAC provides an all-agency property insurance program that covers the Metro-North. This program has a $25 million deductible per occurrence for first-party damage, subject to an annual $75 million aggregate.
Coyne said that while FMTAC is still assessing damages, as of now, it does not expect to reach the $25 million deductible in the all-agency property program.
FMTAC said it's fully reinsured in the domestic, London, European and Bermuda marketplaces for the property coverage. FMTAC's property insurance provides replacement cost coverage for all risks of direct physical loss or damage to all real and personal property, with minor exceptions. The policy also provides extra expense and business interruption coverage.
"We have claims offices in each of the entities, in each of the MTA agencies, who will process claims," Coyne said. "And then we call on experts as we need them, defense counsel as we need them, but we have a full-service claims and legal staff within our agencies."
FMTAC's administration is managed by Marsh Captive Solutions Group. And according to FMTAC's report for its 2013 annual board meeting, FMTAC reported $152.966 million in premiums written and a 104.2 percent combined ratio for the period ending 12/31/12.
Topics Carriers
Was this article valuable?
Here are more articles you may enjoy.