Erie Insurance Group recently filed a petition with the U.S. Department of Transportation seeking permission for commercial operations of small unmanned drone aircraft.
The Erie, Pennsylvania-based insurer said in its Nov. 14 filing that the company seeks to use the unmanned aircraft system (UAS) for research and development (R&D), survey and inspection after casualty events, and risk management and underwriting evaluations.
Erie Insurance joins a growing number of insurers including State Farm and USAA that have shown interest in using drones for their operations.
The Federal Aviation Administration (FAA) prohibits most commercial drone operations but the federal agency has recently permitted drone use for some commercial firms including several television and film production companies on a case-by-case basis. The FAA is currently working on developing new regulations to safely accelerate the integration of civil unmanned aircraft systems into the national airspace.
Erie Insurance said it seeks permission to conduct training and R&D at the company's own facilities and property to evaluate how to best incorporate the UAS into survey, inspection, risk assessment, loss prevention, and underwriting procedures.
Erie Insurance has "an experienced UAS team encompassing a wide range of disciplines and skill sets to offer safe and effective services to its customers," according to the company's 16-page petition filing.
Erie Insurance said the company's response team currently uses conventional methods to conduct its surveys and inspections for damages and loss after a casualty event.
"The methods include the use of individuals to conduct physical inspections and evaluations of claims. By their very nature, these methods are more time consuming and expensive and carry their own substantial safety risks," Erie Insurance said in its filing.
"Unfortunately, after casualty events, structures can be compromised, or access to portions of the property may be blocked due to flooding or debris," according to the filing. "Sending a person in to inspect the upper portions of a damaged structure may not be practical or safe. These are the types of situations where UAS can provide a safe and effective alternative that not only permits an inspection, but can fully document the results."
Erie Insurance also said it is seeking permission to use UAS to perform risk assessment, risk management, loss prevention and underwriting evaluations for its commercial and residential property policyholders.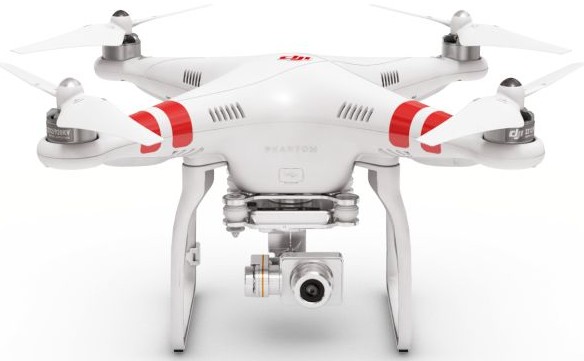 "In particular, inspections and evaluations of the roofs of large commercial structures, or where the roof has an especially steep pitch, provides unique challenges," the insurer said in its filing.
"Currently, most such roofs have to be inspected by physically sending a person onto the structure using ladders. These inspections are time consuming and carry a number of different risks, all of which can be mitigated or eliminated through the use of UAS."
The UAS that Erie Insurance seeks to use is DJI Phantom 2 Vision Plus quadcopter. This UAS, with a starting price of $1,299, measures approximately 13.8 inches diagonally and has a maximum take-off weight of less than 3 pounds. It features a 14 megapixel stabilized camera that can transmit pictures and videos, according to the UAS maker's website.
Erie Insurance said its flights would be operated within the visual line of sight of a pilot and an observer. Flights would be limited to a speed of 35 m.p.h. and operated at an altitude of no more than 400 feet above the ground level.
Other safety measures would include: maintaining a crew with medical certifications at each operation that would include the UAS pilot, one or more visual observers as needed to safely conduct the flight, and a sensor operator if the sensor requires human direction; and keeping a lateral distance of at least 200 feet from any other persons, inhabited structures and vehicles/vessels not involved in the inspection unless permission has been received from the persons or property owners.
Related Articles:
The Future of Drones in the Insurance Industry
State Farm Seeks to Test Drone Use for Damage Response in Illinois
Insurer USAA Seeks OK to Test Drones for Claims Service
Topics Aviation
Was this article valuable?
Here are more articles you may enjoy.