The Insurance Industry Charitable Foundation's (IICF) 9th annual Northeast Benefit Dinner, held on Dec. 9 at New York City's Waldorf Astoria Hotel, raised more than $1.26 million for regional charities.
More than 900 insurance professionals attended the annual event, which featured appearances and speeches from celebrities including New York Mets outfielder Curtis Granderson, Emmy award-winning journalist Jane Pauley, and radio and television personality Boomer Esiason.
During the dinner, IICF honored American International Group Inc. (AIG) for philanthropic leadership with the 2015 IICF "Double I" Award for influence in the industry and impact in the community. Robert S. Schimek, executive vice president, chief executive officer of Commercial at AIG, accepted the award on the company's behalf.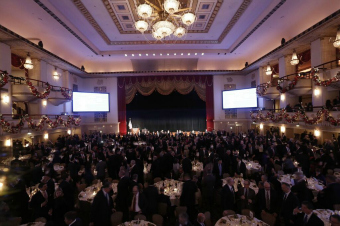 "It has been a true privilege to see hundreds of insurance professionals come together to raise an unprecedented amount of grants at the IICF annual dinner," said Peter Tucker, New York City/New Jersey regional branch manager and senior vice president, Chubb & Son and IICF Northeast Board chair.
"We, as an industry, are united by more than just our profession, and this dinner further shows the impact we can have on the larger community when we give back," Tucker said.
All proceeds from the night's event will fund the Northeast Division's community grants program, providing grants to regional charities that champion causes pertaining to education, at-risk children, the environment, and disaster preparedness.
This year's 15 grant recipients are: All Stars Project Inc., The Boomer Esiason Foundation, Care for the Homeless, Children's Health Fund, Covenant House New Jersey, Covenant House New York, The Doe Fund, enCourage Kids Foundation, Family Reach Foundation, Friends of Karen Inc., Grand Kids Foundation, Nyack Center, Our Military Kids, Riverkeeper Inc. and Team Rubicon.
Over the past nine years, the IICF Northeast Benefit Dinner has provided funding for over $6 million in grants to people in need in the community. These grants continue to benefit nonprofits across this region through the support of insurance industry professionals.
IICF was established in 1994 and is directed and funded by the insurance industry. Since its inception in 1994, IICF has contributed more than $23.5 million in grants to charities and 218,000 volunteer hours to hundreds of community nonprofit organizations. IICF is a registered not-for-profit organization under section 501(c)(3) of the IRS code.
Was this article valuable?
Here are more articles you may enjoy.