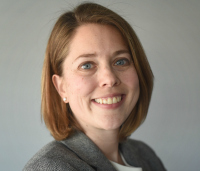 Ames & Gough, a specialty insurance brokerage based in McLean, Virginia, has hired Cady M. Sinks as a broker.

Sinks has more than 12 years of experience in risk and insurance services. At Ames & Gough, she is responsible for evaluating clients' risks, as well as their insurance renewal process. She is directly involved in the placement of commercial coverage lines, including property/casualty, professional liability and management liability.
Before joining Ames & Gough, Sinks was director in Clark Construction Group LLC's risk management program for three years. In this role, she was responsible for overseeing owner contract reviews, negotiating final insurance terms, and coordinating deliverables for bids and awarded projects.
Earlier, she was with Victor O. Schinnerer from 2004 to 2013, where she held positions of increasing responsibility. She began as associate account executive and became associate vice president and program manager. In this role, she oversaw a team responsible for the firm's $30 million-plus contractor's professional and pollution liability program.
Established in 1992, Ames & Gough is an insurance broker and risk management consultant specializing in serving design professionals, law firms, associations/nonprofits and other professional service organizations. The firm has a team of 40 professionals and additional offices in West Chester, Pennsylvania, and Quincy, Massachusetts.
Was this article valuable?
Here are more articles you may enjoy.