Hartford InsurTech Hub, powered by Startupbootcamp, has announced its 2020 cohort of startups. The past two cohorts have consisted of ten startups, and with the help of the Hub's partners, the accelerator program decided to select 11 companies to relocate to Hartford for three months this coming February.
The startups possess a range of capabilities supporting health and property-casualty insurers. The entrepreneurs were selected from more than 350 applications from 57 countries. Eight of the selected companies are from the U.S., and the remaining three are from South Africa, Canada and India.
During the program startups will participate in a variety of workshops, which will focus on topics ranging from marketing and IP law to business development. There will also be introductions to industry leaders and investors who are interested in helping the startups grow their business.
The startups selected to join the Hub's acceleration program for its third year will work closely with insurers and collaborating partners Aetna, Capgemini, Conning, Cigna, The Hartford, Launc[H]artford, Travelers, InsurBot, LKP Global Law, Locke Lord LLP, USAA, White Mountains.
The startups selected for the 2020 acceleration program include :
Stable Insurance – a distribution and analytics platform for consumers of commercial auto insurance. Stable focuses on the rideshare and on-demand economy/mobility segment of the commercial auto space. It allows customers to quickly get a policy for any vehicle in their fleet and offers risk analytics to better understand their risk profile. Stable Insurance will be moving to Hartford from New York City.
Digisure Insurance Solution – Digisure's technology platform provides Insurance-as-a-Service to digital platforms that have trust, safety or liability factors. Its APIs provide identity authentication, generate risk profiles for participants, develop risk scoring, a decision engine for underwriting rules and dynamic pricing for individual transactions, deliver protection packages and handle claims. Digisure is coming to Hartford from San Francisco, California.
iPill – The iPill is a digital health, mHealth and hardware system. The App controls a secure storage safe disposal dispenser to prevent opioid abuse and diversion. An integrated wearable sensor calls 911 if respiratory distress is detected. A CBT module distracts opioid use and iPill uses blockchain for data storage. iPill will be relocating to Hartford from Los Angeles, California.
EDLORE – EDLORE is a platform to view 3D images that provide a platform for O&Ms, 3D/AR, part numbers, videos, pictures, animations and etc. EDLORE will be coming to Hartford from Dana Point, California.
TauruSeer – TauraSeer believes the archaic governance, risk and compliance approach to risk management are insufficient as companies grapple with myriad 'point solutions' and tools amid a false sense of security. Instead, TauraSeer seeks to provide an integrated risk management platform that aligns with modern cybersecurity architecture, management objectives of Secure DevOps and next-gen governance to deliver business goals. TauruSeer will be relocating to Hartford from Jacksonville, Florida.
UDoTest – a B2B at-home disease testing SaaS platform. UDoTest can detect disease risk early, improve the consumer experience, cut costs, improve the underwriting process and increase sales. UDoTest is from Boston, Massachusetts.
Allganize – Allganize's AI automatically finds the answer from myriads of documents. It will be coming from Oakland, California.
Mitigateway – Mitigateway is applying the specialty insurers model to the commodity insurer market. It is originally from Toronto, Canada.
Wysa – an early intervention for high-risk mental health populations, such as students, maternal health or high-stress workplaces. Similar to a journal, Wysa builds insights and shares techniques with its users and offers real therapists for further support. Wysa is coming to Hartford from Bangalore, India.
InvestSure – InvestSure created an insurance product supported by global reinsurer Hannover Re. The product is parametric and protects investors from losses in the share price which are caused by allegations of management dishonesty, including accounting fraud, bribery and etc. InvestSure will be moving to Hartford from Johannesburg, South Africa.
Livind – a platform of software, sensors and services that enables seniors to live independently. Livindi is originally from Wayland, Massachusetts.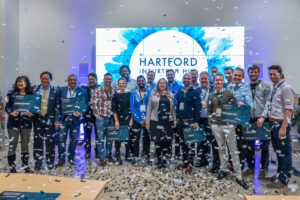 The City of Hartford Mayor Luke Bronin congratulated the startups that participated in selection days and described Hartford as a "place with an unbelievable concentration of companies eager to partner and work with innovative companies."
He urged the 11 companies selected to return in February to "take root here and think of Hartford as your home for the long term."
He noted that insurance industry leaders are partnering across sectors, adding that "our doors are open, and we're ready to sit down with you at any time."
The Hartford InsurTech Hub, powered by Startupbootcamp, is an initiative established in 2017 by Hartford insurance companies, the City of Hartford and CTNext. It is focused on addressing the need for attracting new technologies and talent in insurance and technology into the City of Hartford and the local ecosystem.
Source: Hartford InsurTech Hub powered by Startupbootcamp
Topics California InsurTech Tech
Was this article valuable?
Here are more articles you may enjoy.