Teams of students from seven universities throughout the U.S. today begin a month-long collegiate competition in which they will run virtual insurance agencies in a computer-simulated environment.
The competition, called Selective Agency Management Collegiate Competition, is being sponsored and managed by Selective Insurance Company of America, a Branchville, N.J.-headquartered insurance company of Selective Insurance Group Inc.
"Today's risk management and insurance students are tomorrow's insurance industry leaders, so helping students get acquainted with careers in our industry and on the path to success is something that we at Selective feel is our responsibility to see through," said Chuck Musilli, executive vice president and chief human resources officer at Selective Insurance, in a company press release.
Each school is assigned an independent insurance agent mentor located near each school and a company representative from Selective to guide and advise them as they navigate the challenges of the competition. The teams will consult with their mentors and compete against each other in weekly exercises using high-level learning objectives. Each team is comprised of between four and six students who are in their third year or higher of college studies and maintain a GPA of 3.0 or higher.
"This provides the agents opportunities to build new or strengthen existing relationships and to have a pipeline of candidates for future opportunities within their agency," Robert Redden, vice president of Agency Development at Selective Insurance, told Insurance Journal.
The goal of the competition is to encourage risk management and insurance students to build industry knowledge and experience, as well as gain insights into key processes and decisions that are commonplace in the insurance industry. The first-place team will present their winning strategy to Selective's leadership team.
"Many of our agency mentors have also graduated from the programs at the universities that they are partnered with," Redden said. "This provides additional knowledge on career paths that are available to the students, and they are able to learn about the industry from 'real-life' examples."
Jeffrey H. Haney, president and partner of ECM Solutions and a mentor in the Selective competition, says that "being there to support [students], answer questions, and push them to make sure they have looked at all angles or options" is his strategy for helping the students he is mentoring grow and succeed. Haney is serving as an agency mentor for Appalachian State University in the competition for the third year.
Last year, the competition was a joint initiative of InVEST and the Big "I" Diversity Task Force and is now being sponsored and managed by Selective. For the third year, PriSim will be running its computerized business simulation for the competition.
"The Brokerage Challenge course simulates the workings and dynamics of independent insurance agencies competing in a marketplace for profit and market share," according to David Semb, partner at PriSim Business War Games Inc. "The competition throws the students into the 'deep end of the pool' in running an agency business. The course is designed to catalyze the students' understanding of the insurance industry, particularly agency operations."
In between the four competitive rounds of the simulation, video-lectures on strategy, finance and financial ratios are recorded and posted for the students to view and learn from prior to the next round.
Semb says one advantage to the simulation approach is that students are "better prepared to apply the lessons learned, and to improve their performance, when they enter the workplace and make real-world business decisions."
The simulation allows students to make key decisions regarding hiring, producer compensation, where to invest, carrier representation, sourcing of customers, niches, etc. Since the four weeks represent a four-year time period, they see both the short-term and long-term effects of such decisions, Redden explained.
"As decisions are made, students are able to see how these decisions impact the agency overall," he said.
Haney added that the simulation technology works well because it replicates how decisions made in one part of the agency can affect other areas of the agency.
"The students quickly learn that a single decision has ripple effects through a business," he said.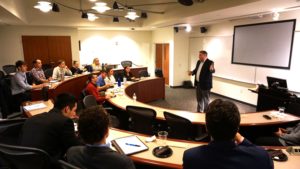 Trevor Smith, a senior risk management insurance major at Illinois State University and the university's team captain for the competition, said it is his first time competing in the competition, and he is hoping to gain knowledge of the insurance industry that can translate into the real world.
"Through the mentor opportunities within the competition, we are able to bounce ideas off of professionals within the field that have taken time out of their work schedule to educate us about insurance and how it can work," he said.
For the past two summers, Smith served as a Property & Casualty Sales intern at Arthur J. Gallagher in Rolling Meadows, Ill. His internship led to his receiving a full-time position as an associate producer within the Public/Non-Profit Sector beginning in August 2020.
"I love the fact that as a commercial insurance broker, it is my duty to help put people's lives back together," he said when asked what he loves about the industry. "When there is something that goes wrong and my client's business suffers a significant casualty, I am the person they call to help make things whole again."
Devon Goolsby, a senior risk management insurance and marketing major at Appalachian State University, was a part of the competition last year and is participating again this year. She said the competition gives students an idea of how fully encompassing the insurance industry is and how many opportunities there are to grow, even just within the agency side of the business.
"Something I love about the industry is the fact that the entire industry is rooted in providing financial needs for people who are facing a time of loss," she said. "I find it admirable to be in an industry preparing to support those they have chosen to insure."
Bailey Siner, a risk management insurance major with an employee benefits minor at Appalachian State University, said it is her first time participating in the competition, which she hopes will provide valuable insight as she plans her career in insurance post-graduation.
"I am hoping to leave this experience with the hands-on intellect of the inside decisions of an insurance agency to carry with me into my future internship and career," she said.
Lauren Coats, a risk management insurance and finance and banking major at Appalachian State University, also hopes the competition will assist her in a future insurance career.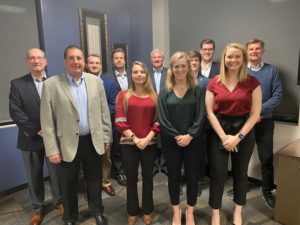 "This competition, I believe, will provide a better understanding of insurance agencies and also valuable business management skills," she said. "I'm excited and grateful in order to be a part of this competition not only for the experience, but also for the relationships and connections I will make."
While Dalton Adams, a risk management insurance major with an employee benefits minor at Appalachian State University, also hopes to gain understanding of what it takes to run an agency, he said he has two goals in mind for the competition.
"I hope to 1. win the simulation and 2. to gain insight into what operations and decisions an agency takes on to help myself understand an agency as a future producer," he said.
Haney said that although this is a competition, and everyone wants to win, his advice for students is to take time to value the experience and learn as much as they can from the journey.
"This experience will help you the rest of your working life," he said when asked to share his advice for the students. "Good luck to all."
The academic institutions participating in Selective's Collegiate Competition include: Appalachian State University, Howard University, Indiana State University, Illinois State University, Middle Tennessee State University, Temple University and University of North Carolina-Charlotte.
Topics Agencies Illinois Market Education Universities
Was this article valuable?
Here are more articles you may enjoy.